Yingui Lauds CERAC's Medical Gift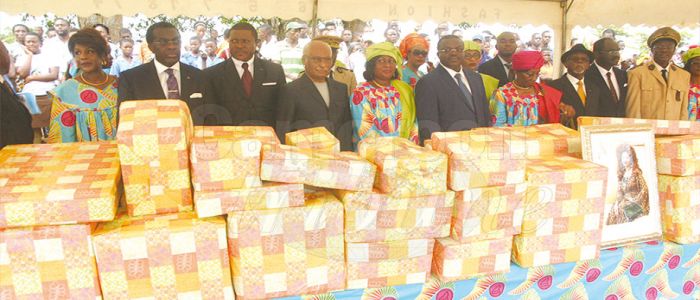 Braving all odds to Yingui with equipment and drugs for the health centre demonstrates distance is not a barrier to Chantal Biya's generosity.
Barely a year after the Circle of Friends of Cameroon, CERAC, rehabilitated and equipped the Deido District hospital in Douala, the humanitarian crew braved all odds to Yingui in the Nkam Division showing the same love they showed to the Deido population.
The close to 3,000 inhabitants of Yingui are proud beneficiaries of a rehabilitated and well-equipped Health Centre by CERAC under its Founding President, Madam Chantal Biya.
"We shall no longer travel long distances to Douala, Edea and Yabassi in difficult condition for medical care," was the sentence on every lip in Yingui on Saturday, June 9th as they danced and chanted songs of praises to the crew and Cameroon's First Lady for ending the veritable nightmare that had stared them in the face for years.
Dance groups from different parts of the country including the North West and the Far North regions, demonstrated a good sense of cohabitation and addressed messages of gratitude through heart-touching melodies to the First Lady and CERAC members.
Before the coming of the kindhearted women led by Madam Catherine Esso, the dilapidating health Centre was an eye saw with no electricity, water, and with an empty pharmacy.
This day, they can boast of a clean and well rehabilitated infrastructure that harbours a surgical service, emergency, genecology, paediatric and vaccination services as well as a pharmacy and a well-equipped theatre.
With the facelift and equipment, the Hospital Director, Dr Abel Belong expressed their gratitude and promised not only to make good use of it but also disclosed they will ameliorate their competence for the benefit of the population.
During the crowd-pulling event, the Personal Representative of the Founding President of CERAC, Madam Catherine Esso, disclosed that CERAC's generosity knows no limit and that they reach out to communities irrespective of distance. "Landlocked areas and extreme conditions don't discourage the amazons of CERAC to reach out to those in need," she disclosed.
In the presence of the minist...
Same category