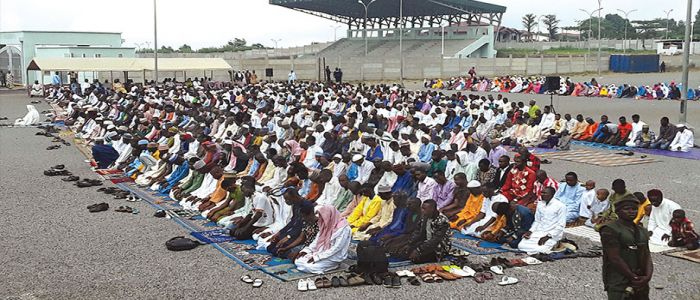 This was at the esplanade of the Buea Town Green Stadium as they mark the celebrations of the Feast of Ramadan.
The Chief Imam of the Buea Central Mosque, His Eminence, Alhadji Mohammed Aboubakar has saluted Moslems faithful who throughout the fasting period have respected all the prescription to the fasting ritual by Allah.
Among the rites for healthy people are the act of compulsory 30 days fasting and sharing with the poor. The message was delivered from the pulpit as the Moslems commemorate the Feast of Ramadan at the Esplanade of the Buea Town Green Stadium.
Quoting from the Noble Quran 65:2-3, the cleric said that whoever fears Allah and keeps his duty to him, he (Allah) will make a way for the person to get out of every difficulty. He pointed out that the problems faced today in the society are as a result of accumulated deeds, with man abandoning the way to rectitude. "The only way out of suffering is to return to Allah," he preached.
The Moslem Community made special supplications on sustained peace, security, development and unity in Cameroon. The prayer was intense for Allah to intervene and provide urgent solutions for the crisis disturbing the North West and South West Regions.
The elections set for this year, the refugee crisis in the East Region and Boko Haram menace in the Northern Regions were part of the prayers. His Eminence, Alhadji Mohammed Aboubakar appealed to the authority to seek lasting solutions to the crisis that has displaced many from their ancestral lands in the Anglophone Community.
For the first time, all the Moslems in Buea Subdivision gathered on one scene and said their Feast of Ramadan prayers at the walkway of the Buea Town Green Stadium. The ceremony was guested among others by the South West Governor, Bernard Okalia Bilai.


Same category