Youpwe Live Link to Douala Islands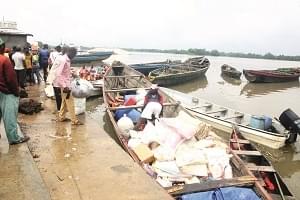 Popularly known as the fish market, it also serves as the only link between the metropolis and the islands off the coast of Douala.
People in Kribi who want to buy fresh sea fish go to Mboamanga, while those in Limbe go to Down Beach. In Douala to place to go to is known as Youpwe. Youpwe is a neighbourhood in Douala popularly known as the fish market of the city due to its closeness to the sea.
Read also :
« C'est un combat de tous les instants »
Fishermen come her to sell their catch while go-between board canoes to far off destinations like Manoka; Cap Cameroon, Siosio where buy fish at giveaway prices to come and sell in the economic capital at exorbitant prices.
Read also :
Développement de la SOPECAM: le plan quinquennal au scanner
In habitants of the various settlements off the coast of Douala also dock or take off from here to acquire household needs. In a nut shell, all the developmental needs of the peoples of these islands who are mostly fishermen, come to the quay of Youpwe.
Read also :
Nécrologie: hommage au Pr. Joël Moulen
Unknown to many, there are 26 settlements off the coast of Douala including, Manoka, Kooh, Bwepe, Mbengue Dikoume, Mouncam, Cap Cameroun, Agracombo, Dongo, Eppasi, Missipi, Bikoro, Beochoudou, Tende, Siosio I and II, Kangue Dfrinch,Takelle, Bouma, Bikikri, Kombo Moukoko, Poko I and Douala Poko who all depend on the main land for supplies.
Read also :
Bravoure et professionnalisme: deux fonctionnaires de police à l'honneur
Owing to this double capacity as a fish market and landing platform for canoes transportation goods and people to and from the islands, Youpwe beams with activities all round the clock.
Read also :
Transport de marchandises: moins de tracas pour les camionneurs
Other businesses have established in the area like bars, shops and restaurants. To depict the attachment of the economy of the neighbourhood to the sea, everywhere one can find engines of boats hung on wooden scaffolds specially made for the purpose.
Read also :
Usine d'Ebolowa: 996 tracteurs déjà assemblés
One can also find some fishermen repairing their nets. The Doula city council recently placed pavement on the road leading to Youpwe, to facilitate access to this economic hub. As early as 3 a.m. the fishermen start arriving, same as the 'buyam-sellams' in fish business.
Read also :
« Tout le monde peut avoir accès à ces équipements »
There are also purchase officers from big restaurants and hotels in town as well as women who roast fish. Individuals only arrive at dawn to buy from the buyam-sellams. There are young men present ready to remove the scales from the fish such that housewives can cook it directly upon arrival back at home, of course for a price.
Read also :
Eau potable: production renforcée à l'Ouest
Same category