CERAC Humanitarian Action: Bakou Health Centre Gets Facelift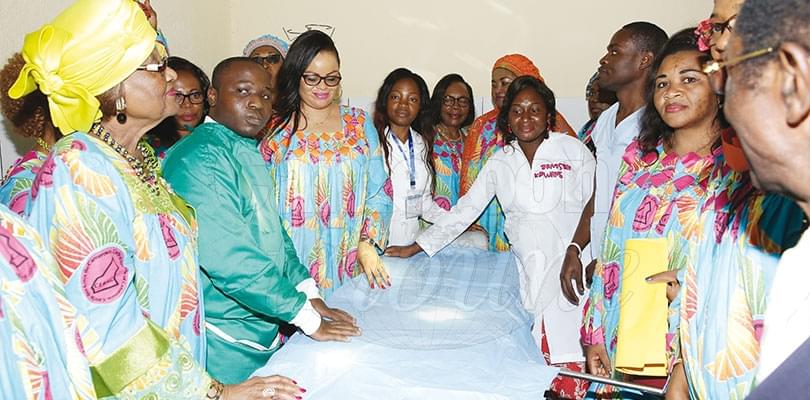 After refurbishing the health facility, the First Lady of the Republic, Madam Chantal Biya has donated medical materials to equip the hospital as well as gifts to the rural women.
The Subdivisional Health Centre of Bakou in the Upper Nkam Division of the West Region has been renovated and equipped within the framework of charitable gestures of the First Lady Chantal Biya, through the Circle of Friends of Cameroon (CERAC).
The donations were offered during an official ceremony on the retrocession of the refurbished and furnished health establishment and the handing over of gifts to health facilities and rural women of the Upper Nkam Division on Thursday August 30, 2018.
The event was presided at by Dr Linda Yang, General Coordinator of CERAC, in the capacity of Personal Representative of Mrs Chantal Biya, Founding President of CERAC. Dr Linda Yang said the donation of the health equipment and gifts to rural women in the Division is geared at improving the standards of living of the people.
She noted that solidarity and affection for health and humanity are the focal points of CERAC. Linda Yang used the occasion to highlight activities of CERAC during its 23 years of existence which in collaboration with partners seek to better the welfare of citizens, especially the less privileged. In a welcome remark, the Mayor of Bakou, Charles Emedec appreciated the gifts, saying they will go a long way in the fight against poverty and facilitate the treatment of diseases in the locality.
He said the donated tools to the rural women will boost agropastoral activities in the community. "In two years, the CERAC delegation and their donations have been received in Kekem, Bana and Bakou localities of our region," he stated, noting that it's an indication of the generosity of the First Lady to the population. To the Medical Doctor of the Health Centre, Dr Nisbe Kpwang, the move by Madam Chantal Biya will provide additional access to quality services in the health facility.
The Divisional Delegate of Women's Empowerment and the Family, Caroline Kadji recounted the February 22, 2016 event in which the First Lady under the banner of CERAC offered gifts to the physically challenged; a symbol of her affection for humanity. She pledged on behalf of the women association to maximise the use of the donated tools for poverty reduction.
Speaking on behalf of the beneficiaries, Njikeu epse Kamakev Hortense expressed gratitude for the humanitarian gesture. "The precious and multiple donations of the First Lady through CERAC has placed the women and people of Upper Nkam to better foster the emergence of the country," Njikeu said.
Same category