President Touadera and Wife Received in Yaounde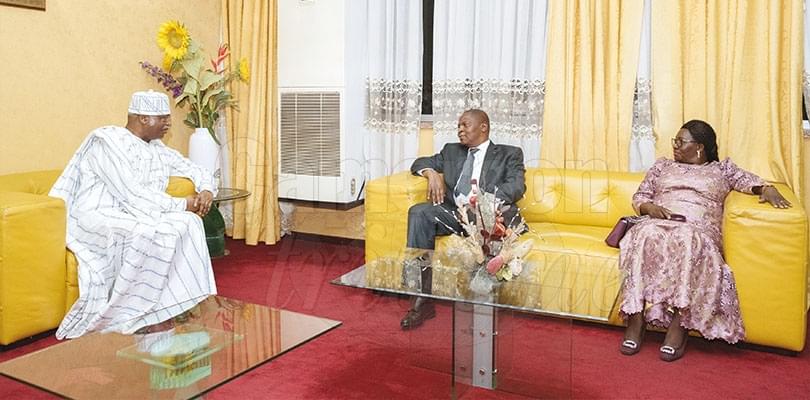 The Central African Republic Presidential couple were on their way to China-Africa Cooperation Summit.
Faus t in-Archange Touadera and wife, Brigitte Touadera were last Friday, August 31, 2018 welcomed by the Prime Minister, Head of Government, Philemon Yang on behalf of the Head of State on their stop over en route to participate in this year's edition of the China-Africa Cooperation Summit.
The Air France aircraft transporting the Presidential couple touched down at the Yaounde Nsimalen International Airport at exactly 7:50 pm.
On hand at the VIP Lounge to receive them was PM Yang accompanied by some administrative dignitaries including the Governor of the Centre Region, Naseri Paul Bea and the Senior Divisional Officer for Mfoundi, Tsila Jean Claude.
After welcoming them at the VIP lounge, the Presidential couple together with the PM left for the Hilton but before departure for the city, President Touadera had time to shake hands with his compatriots who had rallied behind their Ambassador at the airport to give him a resounding welcome to Yaounde. After four hours of rest in Yaounde, Touadera and wife took off at 11:45pm for Beijing.
The stopover was certainly a short occasion to oil the engine of neighbourliness between Cameroon and the Central African Republic. Cameroon, it should be recalled is host to several thousands of refugees from the Central African Republic .
Same category