Soudi Mamoudou, Akoumba Ze, Lift Trophies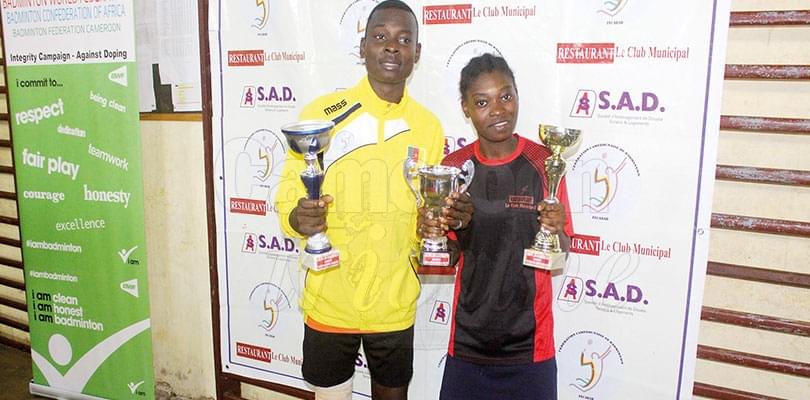 About 100 athletes from across the country took part in the competition that ended in Yaounde on Sunday September 16, 2018.
The gymnasium of the Higher Institute of Youth and Sports in Yaounde was the venue of the finals of 18th edition of the Badminton Cameroon Cup.
Organised by the Cameroon Badminton Federation (FECABAD) the competition brought together about 100 athletes from across the country.
It was an opportunity for inhabitants of Yaounde and it environs to watch young Cameroonians display rich talents in Badminton. It was equally an opportunity for other youths to develop interest in the sport.
For two days the athletes competed in the men's singles, women's singles, mixed double, men's double and women's double categories. In the men's singles, Soudi Mamoudou from the Centre Region won the trophy for the first time beating Nguele Paulin equally from the Centre Region 2-0 sets (15-8, 15-8).
In the women's singles Akoumba Ze Laetitia outplayed former champion, (Centre region) Mbas Louise Lisanne from the East Region 2- 0 sets (15-0, 15-7) to lift the trophy.
Akoumba Ze Laetitia will represent Cameroon at the upcoming Youth Olympic Games in Buenos Aires, Argentina in the days ahead. In the women's double Mbas Louise Lisanne and Mengue Josephine beat Aboudi Nelly and Anamba Maeva 2-0 sets (15-6, 15-9).
In the men's double Bitep Pierre and Nguele Paulin beat Kemene Atangana and Danguisop 2-0 sets (15-9, 15-11). In the mixed double Akoumba Ze Laetitia and Soudi Mamoudou beat Mbas Louise Lisanne and Ondoa Zomo 2-0 sets.
The public also watched exhibition matches in the Short Statue (SS6) and the SL3 (Standing Lower 3) categories meant for athletes with disabilities. Prizes were awarded to athletes who distinguished themselves in recent international competitions.
The President of FECABAD, Odette Engoulou expressed satisfaction with the performance of the athletes given the quality of the final. She said it is proof that Badminton is gaining more strides in Cameroon.
De la meme catégorie