Korean Peninsular: North, South Leaders Discuss Denuclearisation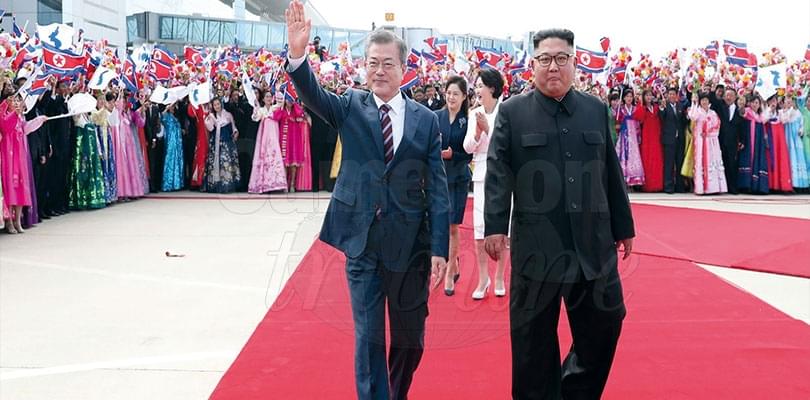 Kim Jong-Un and Moon Jae-in met in Pyongyang on September 18, 2018 for the third time this year.
Efforts to ensure a more peaceful, stable and united Korean Peninsular continued on September 18, 2018 with the leader of North Korea, Kim Jong-Un, and his South Korean counterpart, Moon Jae-in, meeting in the former's capital, Pyongyang.
The South Korean leader is on a three-day visit to the North. As the talks opened, Kim Jong-Un said he wanted to produce a "big outcome at a faster pace" than the two leaders have achieved so far, agency reports said.
Before the talks opened, the two leaders drove through the streets of Pyongyang to loud cheers from nearly 100,000 residents who waved flowers and chanted "Unification! Motherland!" Kim told Moon: "I've been waiting for today. The level of accommodation and schedule we provide may be low, but it's our best sincerity and heart." Moon replied that it was "time to bear fruit" and thanked Kim for his hospitality, which included a massive welcome ceremony at Pyongyang International Airport.
Moon and Kim plan to hold a second round of official talks on September 19, 2018 after which they are expected to unveil a joint statement, and a separate military pact on defusing tensions and preventing armed clashes. Moon hopes to secure a deal that includes North Korea's denuclearization and a joint declaration ending the Korean War.
Tuesday's meeting, the third this year, focused on getting North Korea to give up its nuclear weapons, and the eventuality of the separated countries reuniting, agency reports said. North Korea's Central News Agency, KCNA, said the summit and President Moon's visit "will offer an important opportunity in further accelerating the development of inter- Korean relations that is making a new history." "If this visit somehow leads to the resumption of the US-North Korea talks, it would be significant enough in itself," Moon said before departing for Pyongyang.
De la meme catégorie