PFD: Akere Muna Proposes a "New Cameroon"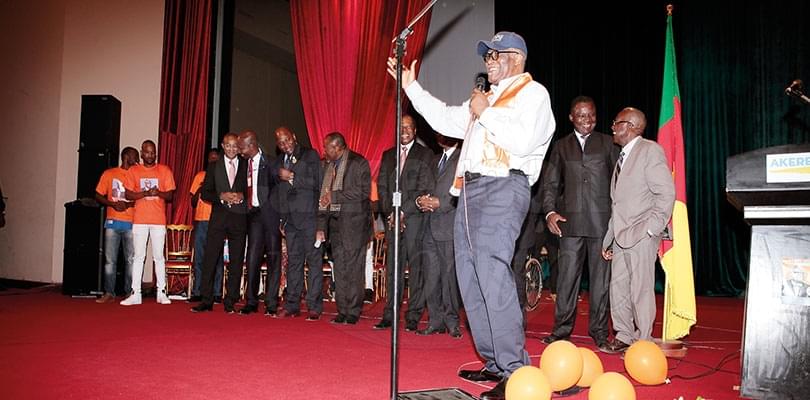 The candidate of the Popular Front for Development (PFD) launched his campaign at the Yaounde Conference Centre on September 22, 2018.
At the end of the long day stoically borne by militants of the Popular Front for Development, other members of the platform supporting the candidature of Akere Muna and eager media practitioners, the flagbearer of the PFD finally gave his keynote address and vision for a " New Cameroon." Akere Muna officially launched his campaign at the Yaounde Conference Centre on September 22, 2018 in an event that lasted from 9:00 a.m. to 7:00 p.m.
In all, he is proposing a New Cameroon to woo electors vote for him in October 7, 2018 presidential election. He said to attain his objectives, priority will be to reform the political system and governing apparatus, bring those who govern closer to the governed, put citizens back at the centre of decisions. He proposes to mobilise the undisputed skills, genius and vitality of Cameroonians, propelling them to become innovators and transformers. For him, "politics must become a true instrument that delivers the will of the people and a stimulant that drives a country towards economic growth, prosperity and social justice".
Before the keynote address, Akere Muna presented his political vision that revolves around a new social pact aimed at modernising the educational system, universal health system, facilitation to lodging and the industrial culture. Concerning the current socio-political crisis in the North West and South West Regions, Boko Haram situation and other refugees related problems in Cameroon, he presented a vision of displaced people happily returned to their homes. In the economic domain, Akere Muna is proposing an economy at the service of the people. He proposes to construct a railway line of 3,200 km should he be elected, add 5,000 MW to the current electricity supply network and inject thousands of billions to seven economic hubs and 28 sub hubs. At the international level, Akere Muna is proposing a Cameroon that takes a leadership position by being effectively present in all international fora.