COSAFA Women's Cup: Government Congratulates Lionesses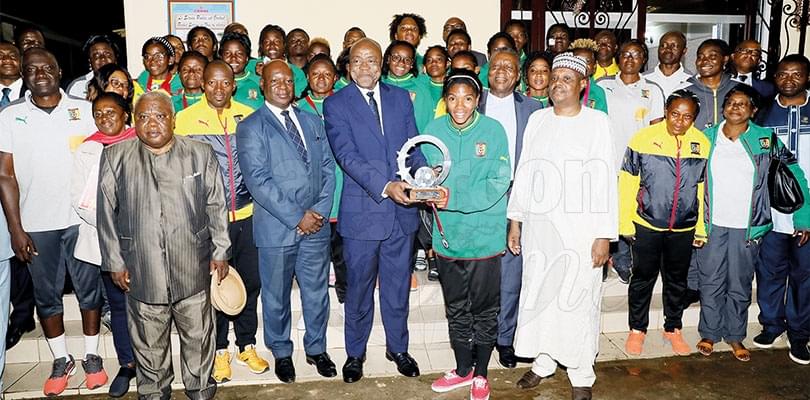 A ceremony to receive the national women's team took place in Yaounde on Monday September 24, 2018.
It was a rather exceptional evening at the Ministry of Sports and Physical Education on Monday, September 24, 2018. The event was a ceremony to welcome home the Indomitable Lionesses of Cameroon after their first participation at the just-ended COSAFA Women's Cup that took place in Port Elizabeth, South Africa.
Read also :
Jeux olympiques : fin de parcours pour Arrey Sophina
The Lionesses brought back home silver after losing to South Africa in the final. Speaking at the occasion, the Minister of Sports and Physical Education, Bidoung Mkpatt congratulated the Lionesses for their performance which he described as brilliant.
Read also :
CAN TotalEnergies 2021 : l'aéroport de Yaoundé-Nsimalen paré !
The Minister said government will leave no stone unturned to ensure adequate preparation for the players ahead of the Women AFCON in Ghana in November 2018. Earlier, the President of the Normalisation Committee of FECAFOOT, Dieudonné Happi assured the players that his institution will support them in the training ahead of future challenges.
Read also :
Chantal Biya International Cycling Race : Organisers Unveil Itinerary
Team captain Ngono Mani Michel Madeleine who spoke on behalf of the players thanked the Minister of Sports and Physical Education for his support and encouragement to the team.
Read also :
Coupes africaines interclubs : la Fecafoot devra trancher
She promised the Minister that the team will continue to work hard to lift the flag of Cameroon high in the international scene. Ngono Mani said Cameroon has always finished second in major continental events but will do its best to break the myth in Ghana 2018.
Read also :
Tokyo Olympic Games : Mengue Ayissi Out
Cameroon participated in the tournament as an invitee. They finished second with the best attack scoring 16 goals and conceding four. Genevieve Ngo Beleck won the trophy for the best player of the tournament while Mpeh Bissong Christina was the best scorer with the only hat-trick in the competition.
Read also :
Tokyo Olympic Games : Wilfried Seyi Eliminated
The COSAFA tournament was an eye opener for the technical bench which will now go back to work to correct errors and make necessary adjustments. The Indomitable Lionesses are expected to begin camping today September 26, 2018 ahead of their friendly match against France on October 9, 2018.
Read also :
Cricket Cup of Cameroon : Sixers, Emergence Cricket Club Winners
Same category