Women's World Volleyball Championship: Cameroon In Search Of Second Victory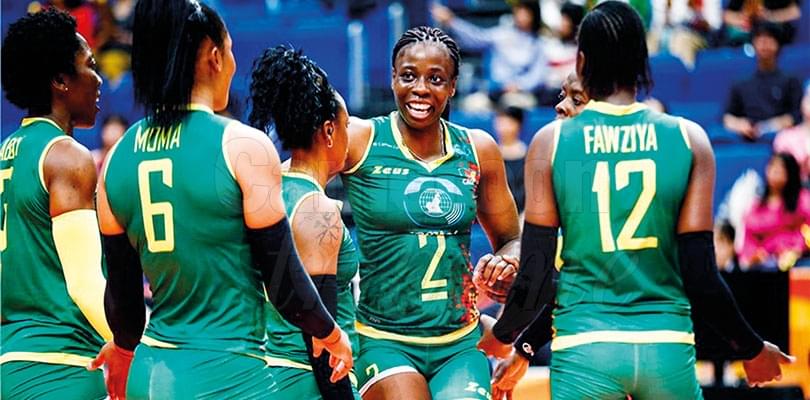 The volleyball Lionesses lost 0-3 sets to Germany in their second game yesterday September 30, 2018
The national women's volleyball team will face Netherlands in their third outing today Monday October 1, 2018 at the Yokohama Sports Arena at the ongoing 2018 Women's World Volleyball Championships in Japan. The volleyball Lionesses lost 0-3 sets to Germany in their second game yesterday September 30, 2018. Today's encounter promises to be tough as they will be out for a victory in order to secure a comfortable position in the group.
Ahead of the encounter, Coach Jean- René Akono and his team are working hard in order to avoid any errors in today's game. In their first game on Saturday, September 29, 2018, African champions, Cameroon made history winning their first-ever World Championship match by beating Mexico 3The volleyball Lionesses lost 0-3 sets to Germany in their second game yesterday September 30, 2018.-1 sets in the opening game of the competition.
Top striker, Laetitia Crescence Moma Bassoko was top scorer in the encounter. It was equally the first victory for Africa, before Kenya followed with a 3-0 sets win over Kazakhstan in Pool D the same day.
Bassoko led the way with 21 points but was ably assisted by Christelle Tchoudjang Nana and Stephanie Fotso Mogoung who contributed 15 and 10, respectively as the Lionesses ended their run of ten straight defeats at the World Championship.
For today's encounter Coach Jean René Akono will be counting on the talents of Laeticia Moma Bassoko, team captain Christelle Tchoudjang Nana, striker, Ngon Ntame Victorie and Stepahnie Fotso Mogoung, among others. In the other day one matches in Pool A, Netherlands beat Germany 3- sets and hosts, Japan, beat Argentina 3-0 sets.
Even though Cameroon is still new in major international competitions they competed in the all Africa Games since 2003. They have also competed in the 2006 and 2014 World's Women's Championship, the 2016 Rio Olympic Games and 2017 FIVB World Grand Prix.
Their best performance in all world competitions is 11th. Ranked 18th in the world, the Lionesses will be working hard to improve on the performance in Japan. At press time yesterday the other day two matches were still going on.
Same category