National Football Academy: Minister Encourages Hard Work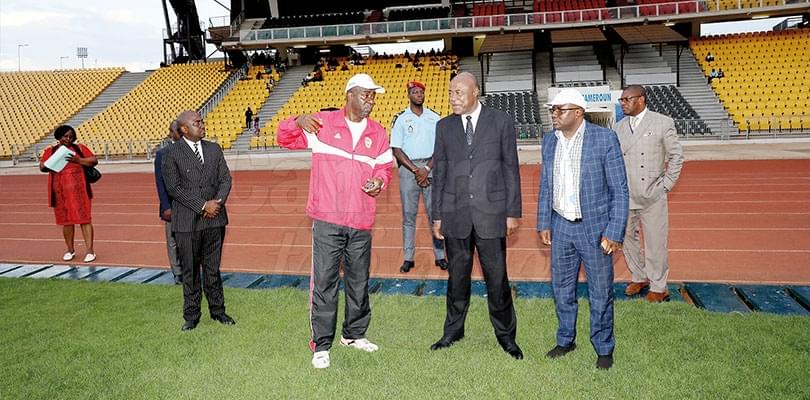 The Minister of Sports and Physical Education visited the headquarters of the football academy in Ngousso, Yaounde, on September 26, 2018.
It was a special day at the headquarters of the National Football Academy (ANAFOOT) in Ngousso, Yaounde on September 26, 2018. The event was the visit of the Minister of Sports and Physical Education, Bidoung Mkpatt, to the institution.
The Minister was received on arrival by the General Manager of ANAFOOT, Carl Enow Ngachu. Minister Bidoung Mkpatt had a brief meeting with the officials and visited the new structure of ANAFOOT.
After visiting the ANAFOOT headquarters, the minister was accompanied to the Yaounde Ominsports Stadium where he watched a training session of the first batch of 50 selected trainees of the ANAFOOT Training Centre.
The General Manager of ANAFOOT, Carl Enow Ngachu said since the creation of ANAFOOT by the Head of State, Paul Biya, the institution has been working hard. He said the purpose of the Minister's visit was to evaluate work done so far. "The Minister was satisfied and he encouraged us because actually he didn't expect the level of preparedness of ANAFOOT and today the dreams of many young players are becoming true thanks to ANAFOOT. We have to do everything possible so that the dream is realised not only by the 50 selected trainees, but by many Cameroonians who would like to take football as a career," he said.
Enow Ngachu said the wish of the Minister is that in the next four years the trainees will be able to integrate in Cameroonian clubs and surely the best will be integrated in the national team. In the days ahead, the 50 selected ANAFOOT trainees drawn from all the ten regions of the country will be officially presented to the public.
Same category