2018 Protestant Week: Member Churches Pray For Peace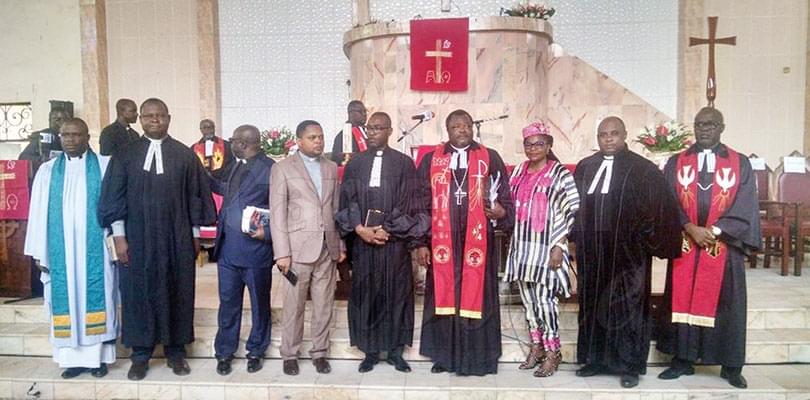 The prayer week that is expected to cleanse the land was launched in Douala October 21st
The state of security in the nation is on every lip. The level of insecurity in the Northern regions fuelled by the dreaded Boko Haram Sect and the Anglophone crisis plaguing the North West and the South West Regions of the country is tearing the country apart. Though much has been done to arrest the situation, much is still left to be done. It is for this reason that the 2018 Protestant Week by the Council of Protestant Churches in Cameroon, CEPCA, was launched in Douala October 21st to pray for the nation.
During the launching ceremony at the Presbyterian Church Bonaberi, representatives of the 11 churches that make up CEPCA including the Presbyterian Church in Cameroon (PCC), Cameroon Baptist Convention (CBC), Native Baptist Church of Cameroon (NBC), Eglise Presbytérienne Camerounaise (EPC), Eglise Anglicane (EA), Eglise Protestante Africaine (EPA), Union des Eglises Evangéliques au Cameroun (UEEC), Union des Eglises Baptistes du Cameroun (UEBC), Eglise Evangélique du Cameroun (EEC), Eglise Evangélique Luthérienne au Cameroun and Eglise Fraternelle Luthérienne du Cameroun (EFLC) interceded in spirit and in faith for the Almighty God to restore peace in Cameroon.
Inspired by the book of Deuteronomy 19:1-13, the CBC Leader, Rev, Dr Ncham Godwill, on the pulpit, challenged Christians, the population and the government to listen to God's voice and acknowledge the law of God as a moral standard because everything begins and ends with God.The president of CEPCA, who doubles as the PCC Moderator, the Rt Rev Fonki Samuel Forba, lamented the killings in the country saying human life is sacred and that it is the reason God created people in his image.
He hoped that by the end of the prayer week, people will dignify human life, live according to God's will and be each other's keeperwhile living in peace.Given that churches will pray intensively for a week, it is hoped that the current situation of the country will improve.
Same category