2018 WAFCON: Lionesses Round-off Training In Mbankomo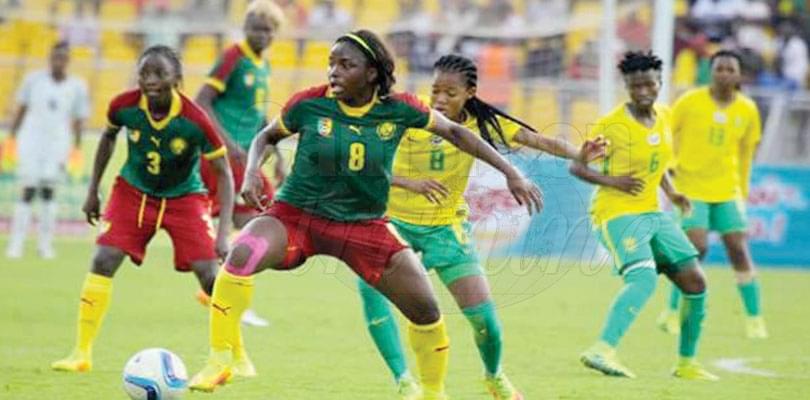 The national women's football team is expected to leave the country for Côte d'Ivoire in the days ahead to acclimatize before heading for Accra, Ghana.
The Indomitable Lionesses of Cameroon have ended the fifth training session in Yaounde ahead of the 2018 Total Women's Africa Cup of Nations (WAFCON) in Ghana. For the past three weeks, the team has been training at the CAF Excellence Centre in Mbankomo. The players trained twice daily under the supervision of Head coach, Joseph Brian Ndoko.
Training took place from 6:30 a.m. to 9:30 a.m. in the morning and the afternoon from 3:30 p.m. to 5:30 p.m. This week's training programme will close three weeks of hard work by the staff and the players. Coach Ndoko is expected to select 23 players who will represent Cameroon at the WAFCON in Ghana.
Out of the 14 foreign-based players called to camp by Joseph Ndoko only Gabrielle Aboudi Onguene who plays for FC CSKA Moscow is present. Sources close to the team say FC St. Malo (France) midfielder Grace Ngock Yango and Be?ikta? J.K. forward, Ada Jacquette of Ahmet Sport (Turkey) were expected to join the rest of the team today, Wednesday October 31, 2018.
All the other professionals invited by Coach are expected to join the group latest Saturday, November 3, 2018. According to some of the players and officials, the training went on smoothly. The competition will take place from November 17 to December 1, 2018.
According to the official fixtures, Cameroon will play their first match against Mali on November 17, 2018 at the Accra Stadium. The fifth training camp in Mbankomo involves home-based upcoming stars like Alexandra Engolo Takounda and Christiana Mpeh Bissong, among others.
One of the local players, Raïssa Mbappe Etoundi, will not be part of the squad as she is nursing an injury she sustained during training. At the end of the training camp in Mbakomo the team is expected to leave the country for Côte d'Ivoire in the days ahead to adapt to the climate in the West African Region before heading for Accra, Ghana.
The 2018 Women Africa Cup of Nations is also a qualifying tournament for the 2019 FIFA World Cup in France. The objective of the Indomitable Lionesses is to win the 2018 WAFCON and secure a ticket for the World Cup.
Same category