Cameroon Women Football Cup: Louves MINPROFF Winner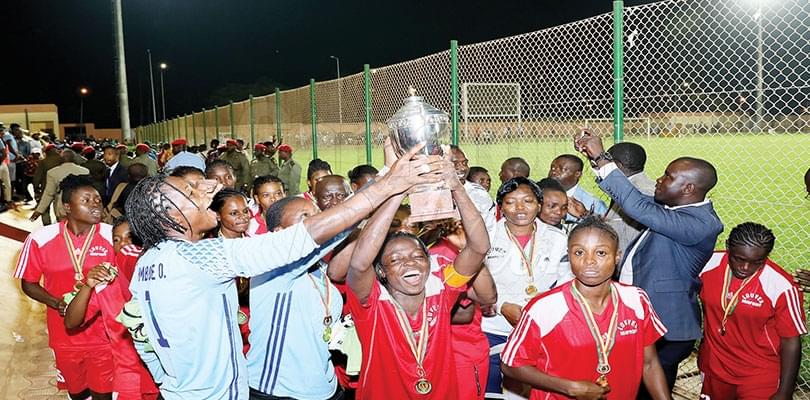 They beat Éclair ladies of Sa'a 5-0 in the final on Friday November 9, 2018 at the Yaounde Military Stadium.
Louves Minproff FC have once more proven that they are a strong team with potential players and are a force to reckon with as far as women football in Cameroon is concerned. They beat Éclair of Sa'a ladies 5-0 in the final of the Women's Cameroon Cup on Friday November 9, 2018 at the Yaounde Military Stadium.
Thousands of fans from Yaounde and its environs thronged the venue to watch the young ladies display rich talents in the sport. Four of the goals for Minproff were scored in the first half.
The goals for Louves were scored by, Glawdys Ewodo Akogo (7th minute, 10th minute), Augustine Ngo Mback Batoum (26th minute), Vanessa Kiomogne Djomo (37th minute) and Beyala Akono (90th minute). Éclair of Sa'a began the game on a positive note but they lacked the techniques. Louves Minproff ladies were more tactical and full of experience.
From the victory, the ladies of the Ministry of Women's Empowerment and the Family have taken back the trophy they lost to Amazones FAP in 2017. It is equally the fourth time Louves Minproff is winning the trophy.
The coach of Eclair of Sa'a Lobe Jacqueline said it was the first final for the team. She said the team had difficulties because three of the players are taking part in the Women's World Cup in Uruguay. Also some of the players have not been playing the national championship regularly. She however hopes that the team will win the trophy next time. The coach of Louves said the victory was as a result of team work.
The President of the Women Football Commission in FECAFOOT, Celine Eko said the goal is to encourage young girls in football. She said the performance of the ladies is proof that Cameroon is at the top of women football.
The event took place in the presence of the Minister of Sports and Physical Education, Bidoung Mkpatt, the Minister of Women's Empowerment and the Family, Marie Thérèse Abena Ondoa, officials of FECAFOOT, and other invitees.
Same category