Indigenous Musical Instruments: Project To Help Save Calabashes From Extinction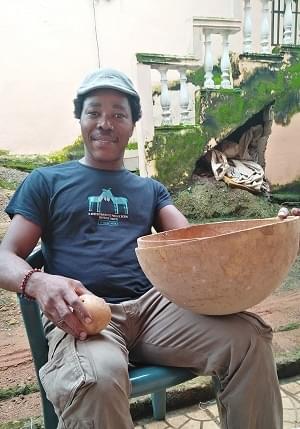 The objective is to ensure ready supply of material for the production of Mvets, Sanzas and xylophones
Mvets, Sanzas and xylophones, have for ages served as soothing sources of entertainment at private and public functions in Cameroon. The music they produce is so cherished by lovers of traditional music, though the tendency has been to neglect a major component of their production – calabash gourds. Consequently, the growing of calashes is fast fading away – with the attendant risks of the evergreen tropical fruits sooner or later becoming extinct.
Read also :
Droits d'auteurs de l'art musical : environ 1500 artistes passeront à la caisse
If this were to be the case, Mvets, Sanzas and xylophones would only survive further if there is replacement for the calabash gourds currently used in resonance. Already, the sad reality is beginning to dawn on some people. Given that the tendency nowadays is to use plastic, instead of calabash gourds, in producing Mvets, Sanzas and xylophones. Worried by the growing trend, Mbassi Noa, alias Packo Mbassi, a Cameroonian singer-composer and producer of traditional musical instruments, has initiated a project to help save different species of calabash from extinction.
Read also :
Saison Africa 2020 : des artistes camerounais en vedettes
Together with colleagues in Ndek Association ("ndek" meaning calabash in the Eton language of the Centre Region), the group in November 2018 begins the large-scale cultivation of calabashes. Located 48km from Yaounde in Ajab village, Okola Subdivision, Lekie Division of the Centre Region, the project is worth about 200,000 Euros (131 million FCFA). It comprises a farm for growing calabashes, a training and tourist centre; and another for using calabashes to produce musical instruments and decorative objects.
Read also :
Photographie : rudiments pour enfants défavorisés
"We will begin with 2,000 square metres and later expand to as many hectares as the demand arises," Mbassi Noa explained. He said different species of calabashes will be grown for the production of Mvets, Sanzas, xylophones; and decorative objects for electricity lamps, sitting rooms or as kitchen utensils for serving food, carrying water and drinking. Melon seed pudding, a by-product of the project, is said to be good in treating prostate cancer, Mbassi suggested. The plan is to also export calabash-based musical instruments, calabashes and packaged melon seeds.
Read also :
Festival international du film d'humour : rira bien qui rira le dernier
Same category