Childhood Vaccination: East Region Forges On, Despite Challenges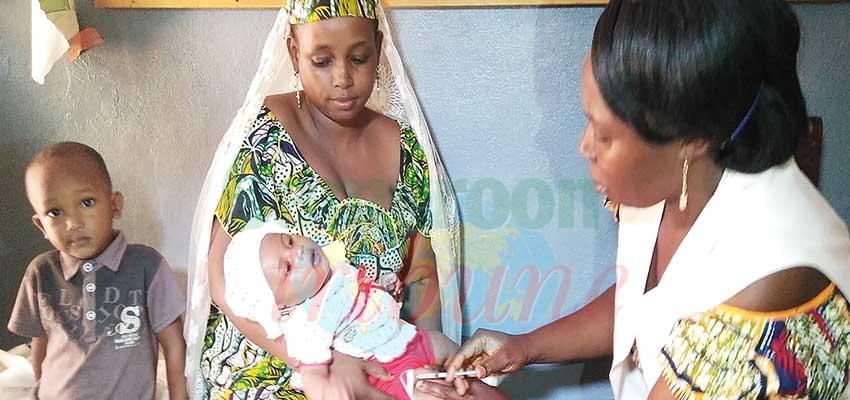 Health authorities and partners are determined to keep on producing better results.
Supported by partners like the United Nations Children's Fund, UNICEF, health authorities in the East Region in 2017 vaccinated 34,825 children against 14 childhood diseases out of the 35,323 who were expected, giving a total of 99 per cent. Between January and October 2018, 29,862 children were expected to be vaccinated, but 28,721effectively did so, giving a total of 96 per cent.
Talking to Cameroon Tribune on November 27, 2018 in Bertoua, the East Regional capital, Koundou Gaetan, Data Manager for the Expanded Programme on Immunisation, EPI, East Region, said the achievements were made despite several challenges encountered in carrying out routine vaccination. They include cases of women who begin and never complete the vaccination of their babies and insufficient storage facilities for vaccines. Moreover, of the 224 vaccine storage refrigerators across the vast but sparsely populated region, only about 90 are functional, Koundou noted.
Similarly, the remoteness of some areas and the long distances to vaccination centres renders the task difficult. "In some cases, women have to cover as much as 50 km to get their babies vaccinated. However, we have put in place a policy whereby nursing mothers living more than 5 km away from the nearest vaccination centre are approached and their babies vaccinated in their villages. Known as Advanced Strategy, such women are assembled in the local chief's palace where vaccination is done for them in their communities," Koundou underscored.
Other challenges hindering the smooth vaccination of children are insufficient logistics (vehicles) and insecurity in some health districts on the border with turbulent Central African Republic in Kadey and Lom and Djerem Divisions. "In such cases, vaccination teams are accompanied by serious forces to carry out their work," the EPI Data Manager said. Moreover, difficult-to-access zones like in Moloundou, Boumba and Ngoko Division where some nursing mothers are only reached by using speedboats, also pose a major problem.
In spite of all these challenges, health staff in the region have been so ingenious in devising strategies to overcome them. For example, where there are no vaccination storage facilities, teams collect vaccines in iced containers and can use them for two days. If need be, staff from other health districts are brought in to give a helping hand, Koundou Gaetan noted.
Same category