Public Health: Here Comes Emergency Operations Centre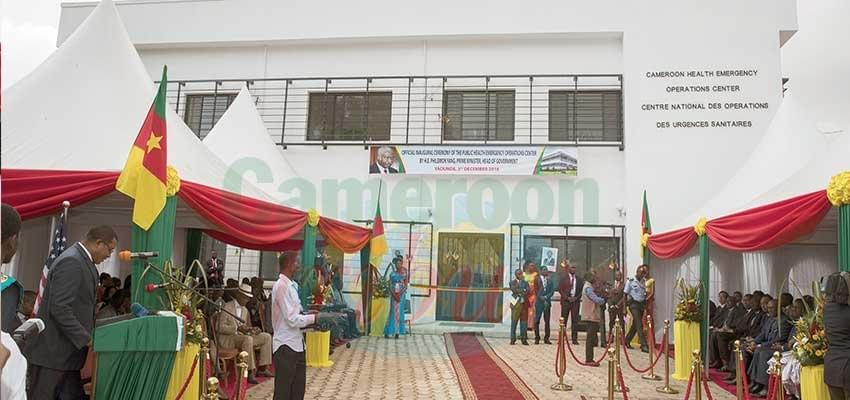 Prime Minister Philemon Yang on December 3, 2018 chaired the inauguration ceremony of Cameroon Public Health Emergency Operations Centre located at Messa, Yaounde.
Since Monday, December 3, 2018 Cameroon is endowed with a FCFA 2 billion (about 3.5 million US Dollars) Public Health Emergency Operations Centre located at the Messa neighbourhood in the capital city Yaounde.
Prime Minister, Head of Government, Philemon Yang chaired the inauguration ceremony of the Centre that is yet another fruit of the Cameroon-USA health cooperation. This is because the construction of the centre was funded by the Defence Threat Reduction Agency which is an agency within the United States Department of Defense founded in October 1, 1998. Speaking during the occasion, USA Ambassador to Cameroon, Peter Henry Barlerin said the Centre equipped with the state-of-the art equipment including computers, was constructed by the USAbased Black and Veatch company. The centre is a two-storey building with a maximum capacity of 116 people at a time. It occupies a surface area of 1813 metres square.
The Public Health Emergency Operations Centre is a welcome relief to Cameroon that from time to time have cholera attacks and other pandemics. This because it is public health oriented emergency centre. Information published about the centre specifies that, "it is a central location used by the Cameroon Ministry of Public Health and related ministries to collect, synthesise , and analyse bio surveillance data, collected across the country (situation awareness, alert), in order to coor dinate resources and inform...
Same category