National Football Academy: First Batch Of Boarders Presented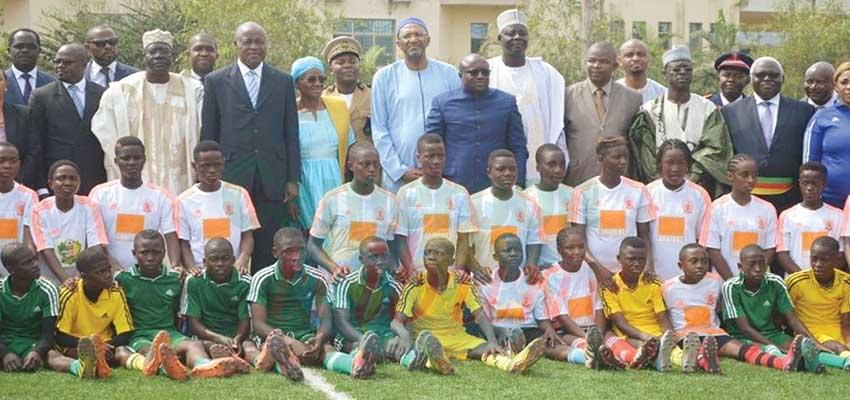 The 50 trainees aged between 12 and 13 years are from all the ten regions of the country.
It was a special day at the CAF Excellence Centre in Mbankomo near Yaounde on Friday, December 28, 2018. The event was a ceremony to present the first batch of 50 boarders of the National Football Academy Training Centre. The 50 trainees aged between 12 and 13 years are from all the ten regions of the country. The boarders (30 boys and 20 girls) were selected during a tournament at the ANAFOOT Training Centre in Yaounde.
Speaking at the occasion, the Minister of Sports and Physical Education, Bidoung Mkpatt said the training at the base is a major preoccupation of government in its bid to promote physical and sports activities which are needed to have talented youths who can represent the country honourably at the international scene. Earlier, the General Manager of ANAFOOT, Carl Enow Ngachu said the selection of the 50 boarders of ANAFOOT is the result of a nationwide detection campaign launched in all the regions of the country in December 2017. A total of 500 were selected and after other selection exercises 100 were shortlisted before the final 50. He said the ANAFOOT Training Centre will enable the young players to benefit from adequate infrastructure and competent training to help them attain the highest level. Training will last for six years.
For now training will take place sporadically during holidays for a period of two weeks to one month. Enow Ngachu said as from next year the centre will be like a boarding school where the children will train and go to school. The children took turns to display their individual talents to the officials present. This was followed by two exhibition matches by the male and female teams for the public to discover their talents. Created on September 25, 2014 by the Head of State Paul Biya, ANAFOOT is a public administrative institution specialised in the field of football in Cameroon. The event took place in the presence of members of government, officials of the Cameroon Football Federation, players of the national women's football team, former Indomitable Lions, and other invitees.
Same category