Manyu Thanks President Paul Biya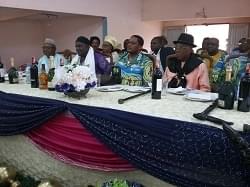 The New Year Wishes ceremony organized by MECDA Yaounde also served to congratulate Minister Mengot Victor Arrey for his reappointment.
Despite the gloomy atmosphere in the two Anglophone Regions, sons and daughters of Manyu Division resident in Yaounde on Sunday, February 3, 2019, found time to pray, commune and show case their tradition as they thanked His Excellency President Paul Biya for maintaining Mr Mengot Victor Arrey, Minister in charge of Special Duties at the Presidency of the Republic.
The "Thank You and New Year Wishes" event which took place at the Division's multipurpose hall situated at the Corneillet Round about in Mvog Ada (Yaounde), saw two main speakers mount the rostrum. The President of the Manyu Elements Cultural and Development Association (MECDA), Professor Agbor Gabriel thanked President Paul Biya for maintaining Minister Mengot Victor Arrey. He used the occasion to give a clear picture of the association's balance sheet which he said is not encouraging due to lack of funds, commitment and transparency from the former executive.
He called on each son and daughter to put hands on deck to support the different edu cational, social and economic projects in the pipeline which the youths can benefit. He announced the availability of a Master's scholarship worth FCFA 500,000 for any student studying the culture of Manyu and the willingness of the Manyu Dynamic Club to continue awarding prizes to meritorious students. In a melancholic tone the Science Professor sent tears running down the cheeks of many as he called on the powers that be to seek a rapid and long-lasting solution to the crisis rocking the English speaking Regions. He said, since the start of the crises, Manyu Division has suffered a lot of human and material loss, "We should not comfortably sit in Yaounde and think everything is ok…Our people are suffering and dying at home…" he reiterated.
Minister Mengot Victor Arrey, patron of MECDA hailed the role the association has played with regards to the development of Manyu Division. With regards to the socio-political situation in the Regions, Minister Mengot Victor vehemently condemned what is happening in our towns and villages where people are kidnapped for ransoms, taxes are paid before corpses are transported home for burial.
He called on those still "believing the unbelievable" to join the "living together wagon" as Cameroon for the next seven years is built on three pillars; Peace, Security, Stability; Economic Development and Improvement of the Living Conditions of the Population. The event was spiced with traditional dances from the four subdivisions of Manyu.
Same category