Terrorist Threats: Need To Adapt Weapons Industry In Africa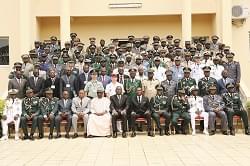 Brainstorming is taking place during a two-day colloquium at the Yaounde International War College Simbock to propose ways and orientations on fighting terrorism.
Military experts, university dons and other experts will today, May 10, 2019 at the Yaounde International War College Simbock propose recommendations on orientations for arms industries in Africa to enable the continent face the growing wave of terrorist threats. This will be at the end of the 14th edition of the colloquium 2019 organised by the Yaounde International War College on the theme, "Evolution of the weapons industry in the face of the terrorist threat in Africa."
The Minister Delegate at the Presidency of the Republic in charge of Defence, Joseph Beti Assomo who opened the colloquium on May 9, 2019, said its results should be proposals on new ways and orientations of fighting terrorism in Africa. He said it was a moment to analyse the security situation in the continent and make recommendations that will guide policies.
He called on arms industries in the continent to adapt to the changing technology so as to tackle the different ways terrorists were operating. The Director of the Yaounde International War College, Major General Ngambou Esaie said the main objective of the colloquium was to explore the geostrategic evolution of the arms industry of the African defence forces in the fight against terrorism. In a practical inaugural lesson given by Professor Atsa Etoundi Roger, Head of the Computer Department and Division of Computer Systems in the University of Yaounde I, it emerged that Africa was the theatre of terrorist threats in the world. The topic was on technological evolutions at the era of terrorist threats.
He said the advent of the digital revolution was an opportunity for Africa since it does not require heavy investments. As such, African armies can use digital technology to evolve and be like those in other countries across the global. He cited the various types of terrorism and said each army must master technological evolution in order to adequately adapt to the threats.
Other topics discussed in panels during the colloquium include: the bases for a general approach to the terrorist threat and arms industry in the African context, dialogue and sharing between industrial entrepreneurs and defence forces in the fight against terrorism in Africa and the perspectives of the arms industry in the fight against terrorism in Africa. The ultimate goal of the colloquium that ends today will be to propose the possibilities of arming African defence forces with the capacity to neutralize terrorism at low cost
Same category