State Budget For 2020:Gov't Accelerates Preparation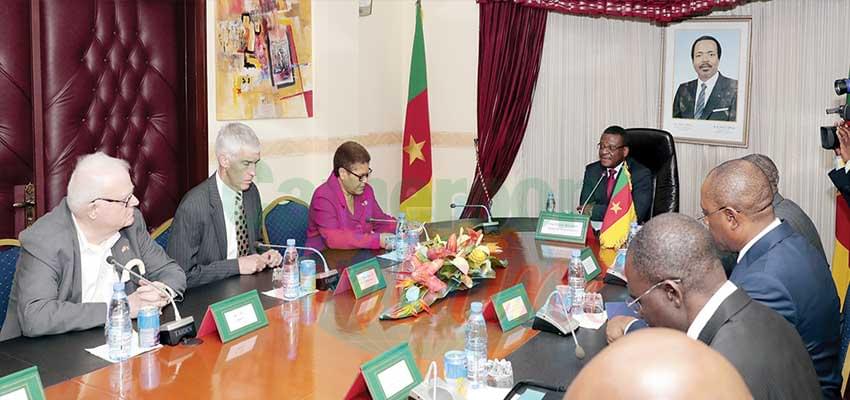 The profile of the 2020 Finance Law and the outlines for the 2020 Public Investment Budget were examined during the cabinet meeting of July 3, 2019
The cabinet meeting of July 3, 2019 chaired by the Prime Minister, Head of Government, Chief Dr Joseph Dion Ngute focused on preparations of the 2020 State budget with key guidelines, orientations and priorities presented to the cabinet. The Minister of Finance, Louis Paul Motaze did a presentation on the theme, "The profile of the 2020 Finance Law, in prelude to the Budgetary Orientation Debate (BOD)" that will take place in Parliament. He said the BOD introduced into the budgetary process has to be organized mid-year. "Through the Budgetary Orientation Debate, Parliament and even the entire government will now intervene upstream to better contribute to the definition of the macroeconomic and budgetary framework. They will thus be led to appropriate macroeconomic assumptions underlying the draft budget in preparation and the Parliament will give its unction to the government's budgetary choices," Minister Motaze said. The BOD, he said, has the ultimate purpose to create conditions for the adoption of finance laws that permanently guarantee macroeconomic stability and consequently, overall economic equilibrium. The profile of the 2020 Finance law the Minister presented which will be the basic document for the Budgetary Orientation Debate, serves as a reference framework for the drafting of the 2020 Finance Law and defines the main orientations, which include the level of expected revenue, the projected expenditure and the resulting budgetary balances, on the basis of the evolution of the national and international economic situation. The Minister presented the budgetary outlook for the 2020-2022 triennium with specific concern being the identification of new challenges and setting of the policy priorities that will guide government action.
Public Investment Budget
The Minister of the Economy, Planning and Regional Development, Alamine Ousmane Mey did a presentation on the theme, "Outlines of the 2020 Public Investment Budget." The presentation was articulated on the strategic guidelines of the preparation of the 2020 Public Investment Budget and the priorities of the 2020 Public Investment Budget. Among the priorities for 2020, the Minister took particular interest in the sociopolitical crisis-stricken North West and South West Regions. He said that besides the important consideration of security expenditure aimed at restoring peace in the two regions, "it is also important to earmark more funds for the reconstruction of these two regions, by upgrading the productive structures located there, the large agro-industries of these Regions crumbled by the current security crisis." He also cited the catching up for the projects programmed but not executed in the North West and South West Regions in the past two years due to the security crisis. He disclosed other projects in the road, power supply, health and sports sector. The choice of the projects, the Minister explained is determined by key guidelines he also presented.
Same category