Cairo Museum : Egypt's Mark of Nobility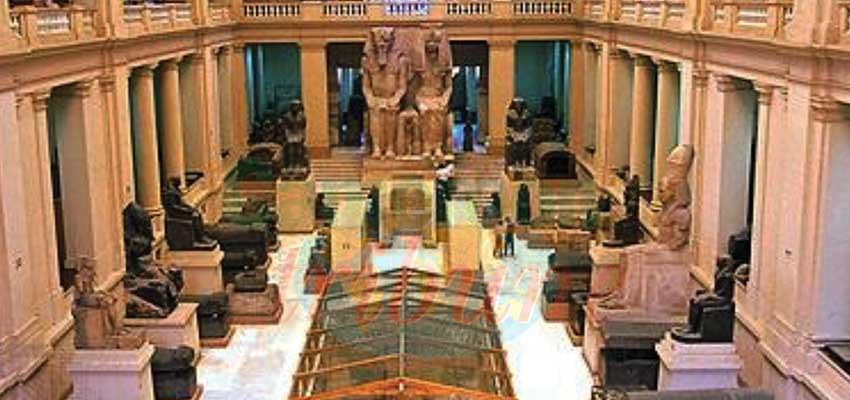 One of the places media professionals visited during their 14-day workshop and seminars trip was a complex that houses the largest collection of Egyptian artifacts in the world.
"We used to receive millions of visitors, and raise millions of dollars a year until political problems caused a drop."
With this statement by an Egyptian guide at the Cairo museum, the importance of peace and political stability in sustainable development was highlighted.
Located in Cairo on the east bank of River Nile, the museum which contains the most extensive collection of pharonic antiquities in the world, is one of the sites no visitor to Egypt would want to miss. With its variety of objects ranging from carvings and paintings, to statutes and mummies, the museum is in fact, one of the landmarks of Egypt's pride and cradle of civilization.
The number of tourists that stream to the museum, besides those that rush to Giza to see the pyramids, has caused observers to refer to Cairo as the sleepless capital. With a population of over 17 million, put at 20 million during the week, Cairo with its several attractions besides the museum, has become so congested that a new administrative capital is being constructed.
While in Egypt, for their workshops and seminars, and participants visited this site for Egypt's administrative capital. What is going there is in fact, Egypt's vision and determination to forge ahead as gate way to the rest of Africa and the Middle East.
The Egyptian museum with its about 160,000 precious objects, has been constantly refurbished, but there are plans to give it a new look in structure and content. From what is available at the museum, the number of people that visit it see and feel the pride of Egypt, none returns home without thinking of what is worth copying from this land of great deeds. Sustainable development demands a vision and will to make things happen. The Egyptians are already doing it. The rest of Africa can, if nations are politically stable, peaceful, patriotic, and above all, committed to development.
Same category