Challenges in Financing CEMAC Economies : Regulator, Lending Bodies Proffer Solutions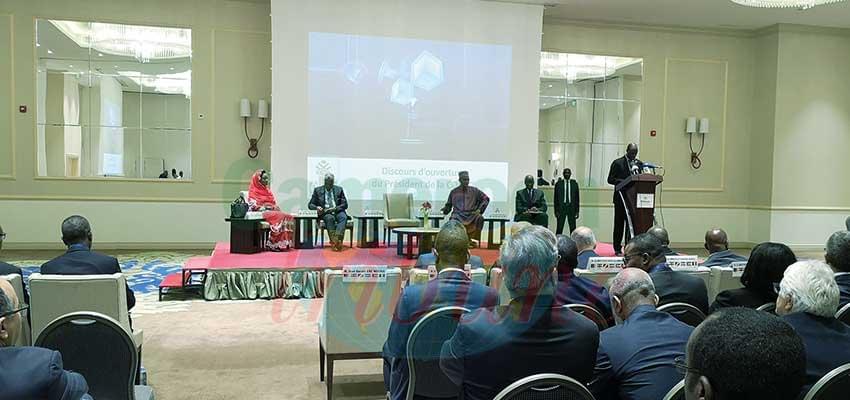 The 11th annual meeting between COBAC and bank managers held in N'Djamena on July 25, 2019 under the chairmanship of BEAC Governor, Abbas Mahamat Tolli.
Banking institutions operating within the CEMAC sub region and the Central African Banking Commission, vested with the powers to regulate the activities of the former for sustainable financing of the economies, have agreed to work as a team in bridging loopholes impeding their proper functioning. They both hold that the conditions of giving out loans have to be made more development-friendly and appropriate ways of recovering the loans need to be well drafted.
Meeting in N'Djamena on Thursday July 25 within the framework of their 11th annual concertation, COBAC officials and managers of the over 51 banks operating within CEMAC indicated that the legal instruments in place and the functioning of most judicial institutions make it difficult for financial institutions to sue insolvent borrowers and recover their money in time. Reason why most lending institutions would prefer to hold the money rather than give it out to needy population. In such situations, the economy bleeds as development stagnates.
Speaking during the opening and closing ceremonies, the Governor of BEAC, Abbas Mahamat Tolli who is also Chairman of COBAC, enjoined the bank officials to revise their lending mechanisms and also to make conditions abundantly clear so as to avoid friction with customers which most often surfaces during reimbursement of loans. He equally urged officials of the banks to strive to have sufficient personal funds which can guarantee their sustainability. It is common knowledge that some lending bodies have crashed out of business and compromised the savings of smaller customers once some giant customers pulled out their individual savings which almost served as capital of the institutions in which the funds were lodged.
Through paper presentations and ensuing discussions on topics like, "Crises and personal funds in lending institutions of CEMAC," "Cyber criminality in CEMAC lending institutions," and "New regulation and the fight against money laundry and financing of terrorism," participants agreed that partnership is imperative in surmounting challenges starring the sector in the face. Working with respective governments to put in plac...
Same category