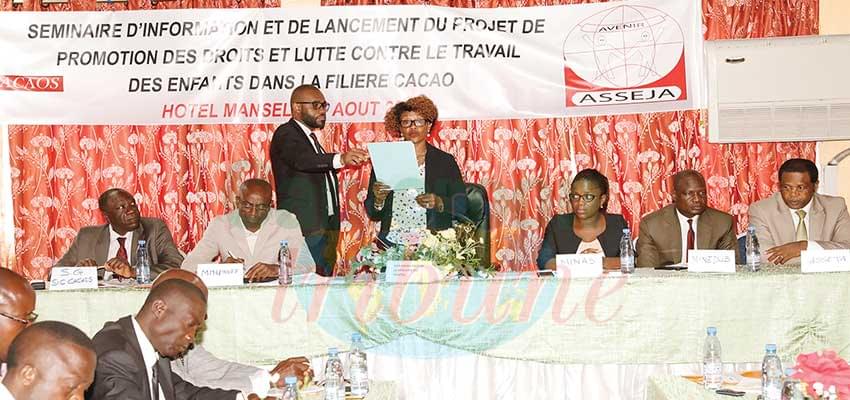 A workshop to launch activities to combat child labour in cocoa plantations took place yesterday, August 7, 2019 in Yaounde.
The widespread use of children in cocoa production is alarming. Approximately 152 million children worldwide, according to the International Labour Organisation (ILO), are affected by the phenomenon. The government of Cameroon and other stakeholders are determined to eliminate child labour in cocoa plantations by 2025. This is the raison d'être for the workshop that took place yesterday, August 7, in Yaounde. Organised by the Association for Children, Youth and the Future dubbed ASSEJA in the French language, in partnership with SIC CACAOS (the local representative of Barry Callebaut) the workshop focused on discussing sustainable projects that will not only keep children away from cocoa farms but improve the living conditions of cocoa farmers and also encourage the entire community to respect the rights of children.
The Representative of the Minister of Labour and Social Security, Technical Adviser No 1, Georgette Ngonga said the workshop is timely and welcomed, especially as the government is spearheading a national plan to eliminate child labour. She said the workshop is out to enable stakeholders know the project "Forever Chocolate", which amongst other things seeks to make farmers prosper and ensure zero child labour etc. The Partnership Lead Child Labour experts at Barry Callebaut, Andres Tschannen, said his company which is the world's leading manufacturer of high-quality chocolate and cocoa products is out to support government's policy as far as child labour is concerned and also to establish collaborations with the government and communities to jointly address and share responsibilities in the realisation of children's right as far as cocoa farming is concerned. He said through the project "Forever Chocolate", his company will endeavour at eliminating child labour in cocoa farms and its supply chains by 2025.
Same category