9th Session of CEBEVIRHA : Fisheries, Animal Production Under Scrutiny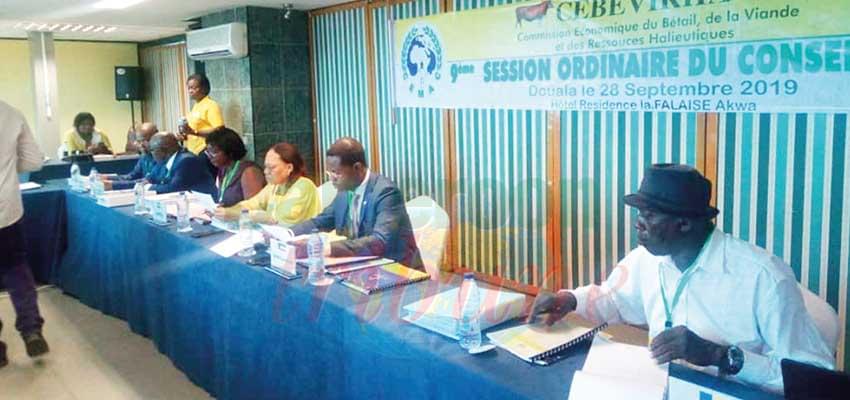 Improvement of livestock and fisheries within the sub-region was the core of the meeting.
The ninth ordinary session of the Economic Commission for Livestock, Meat and Fish Resources known by its French acronym as CEBEVIRHA of CEMAC took place in Douala, Saturday September 28, 2019. The meeting that was chaired by the President of the Commission Dr. Atkam Hamman saw the participation of all members. While examining the Commission's report, members also validated proceedings of the eighth ordinary meeting that took place in N'Djamena-Chad in 2018. The meeting also gave way for commission members to examine ways of improving fisheries and livestock production in CEMAC countries. In his opening remarks, Dr Atkam Hamman said that one of their missions is to ensure food security, reducing poverty by increasing the integration and regional synergies within the CEMAC zone. He said CEBEVIRHA has made some positive strides in the last three semesters such as the start of activities on the project for the promotion of continental fisheries and agriculture. He said the stiff fight put up by member countries in the elimination of rabies is yielding fruits. He congratulated members for their efforts in ensuring that the commission succeeds in its mission. He also urged members to take deliberations seriously and come out with decisions that will better the lives of people in Gabon, Cameroon, Central African Republic, Chad, Congo and Equatorial Guinea, all CEMAC member states. While presenting the activities of CEBEVIRHA, the Executive Secretary, Pedro Bayeme Bayeme Ayingono said the economic crisis that has rock the region in the past semester has made work difficult for the commission. He revealed that during the last semester, out of 30 projects, 10 are still ongoing, one has been completed which gives a 15% realisation rate. Moreover, he added 11 projects will be carried out in the last semester of 2019 while three will be carried out in 2020.
Same category