Forthcoming Elections : MINAT Assesses Preparations In North West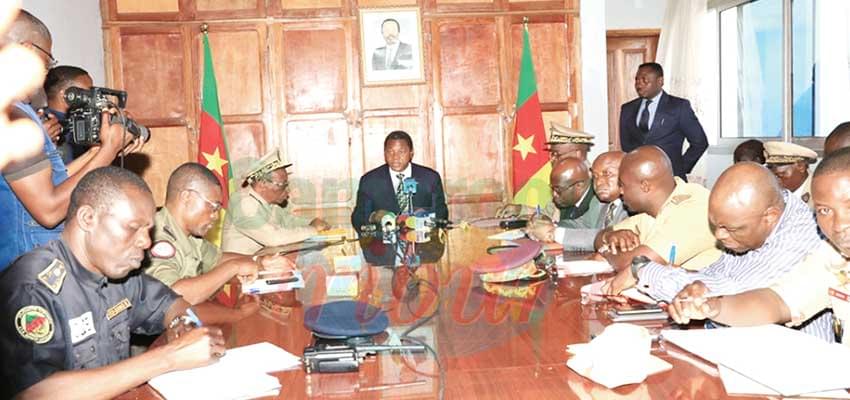 Minister Paul Atanga Nji held a meeting on November 7, 2019 in Bamenda with administrative and security officials.
Cameroon is expected to hold regional, parliamentary and council elections in 2020. In order to ensure that preparations are going right in the North West Region, the Minister of Territorial Administration, Paul Atanga Nji, on Thursday, November 7, 2019 met with regional administrative and security officials.
Read also :
North West, South West : Commonwealth Appreciates Peace Measures
During the security meeting in the Conference Hall of the Governor's office in Bamenda, Atanga Nji listened to a debriefing on the security situation in Mezam Division and in the region as a whole. Governor Adolphe Lele Lafrique assured the Minister that the security situation was under control.
Read also :
Star Building : Chamber Of Commerce Solicits Support
Taking the floor, the Minister stressed the need for elections to hold in all subdivisions in the region. In this light, the inputs of all – Elections Cameroon, traditional authorities, the civil society, administrative, security and military authorities – are necessary for all these polls to hold successfully.
Read also :
Conseil régional Adamaoua : 3 milliards de F pour démarrer
Paul Atanga Nji also underscored the importance of the security of the people and their property to continue to be ensured. He commended the military and security forces for doing a good job so far, adding that the task at hand was key to the country's democratic advancement.
Read also :
Election à l'Osta : le Cameroun reconnaissant
The Minister commended Cameroon People's Democratic Movement, CPDM party members for the successful celebration of President Paul Biya's 37 years in power on November 6, 2019. According to him, this was another demonstration of their unflinching support for their party leader and Head of State, His Excellency Paul Biya.
Read also :
Diplomacy : Cameroon's Know-how Appreciated
Same category