Panther Dominates Judo Championship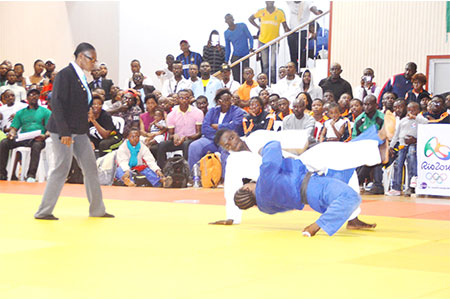 They won 12 medals, four in gold, one silver and eight bronze to emerge champions.
The judo national championship took place over the weekend with Panther judo club of Bastos-Yaounde emerging champion. The club virtually dominated the championship winning four gold medals, one silver and eight bronze medals in the process. Panthers won gold in the -48kg, -70kg, +78kg and -73 kg categories. The gold medals were won for Panther by Philomene Bata, Arrey Sophina Ntui Ayuk Otay and Joseph Hell Bapou respectively.
They were followed from a distance on the medal tally sheet by Jujitsu Judo club who won a total of 12 medals equally but with only two in gold, three silver and seven bronze. The gold medallists for Jujitsu were Nku Mballa and Audrey Etoua Biock in the -57kg and -63kg categories respectively. The club from the University of Yaounde I emerged third with a total booty of seven medals, two in gold, three silver and two bronze with the gold medallists being Eric Seraphin Ndjodo Enongo and Gabriel Kamadjou Tankoua in the men's -60kg and -66kg categories respectively.
The other participating clubs in order of appearance of the medal classification table are as follows, Camrail in the 4th position, Bushido, FAP, Bercail, Dschang University, Megafitness judo club, DOJA, College Mvogt, YSPT, Lion Academy, Stefy, Talitha, Bodyfitness and Atlantic ATJC, in that order with each club bagging home at least a medal. It is worthy to note that the national championship is taking place at a time when other judo athletes are taking part in the Rio Olympics with judo competitions expected to run from August 6th to 12th.
Same category