Implementation of Sustainable Development Goals : PM,UN Official Discuss Best Methods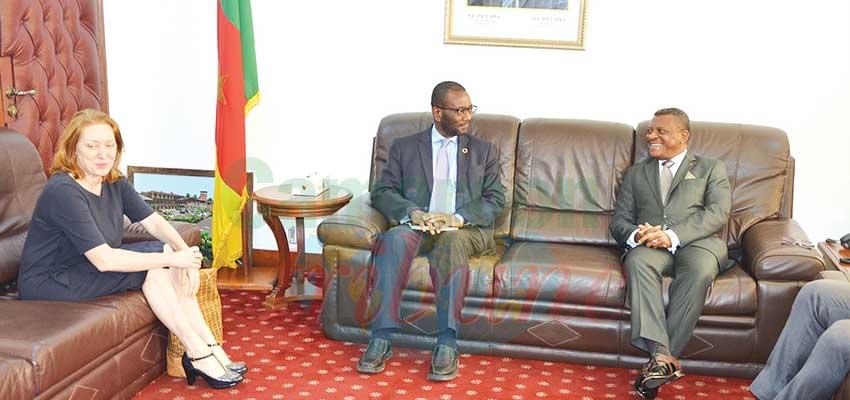 Both personalities during the audience at the Star Building yesterday January 22, 2020 discussed how to best respond to sustainable development challenges in Cameroon.
The Prime Minister, Joseph Dion Ngute on January 22, 2020 received in audience at the Star Building the Africa Regional Director of United Nations Development Coordination Office, Munyaradzi Chenje, during which both personalities discussed the implementation process of the Sustainable Development Goals (SDGs) in Cameroon. He was accompanied to the audience by the Coordinator of the United Nations System in Cameroon, Allegra Baiocchi. Speaking to reporters shortly after the audience, the UN official said he discussed with the Prime Minister how Cameroon together with the United Nations can respond to the challenges of sustainable development in the country. "We discussed how we can respond to the implementation of the 2030 Agenda of leaving no one behind, contributing to an inclusive economy that takes into consideration everyone, raising the standards of living and contributing to the conservation of the environment. We talked on how the UN can under the leadership of the government support these initiatives," he stated. Going by him, Cameroon which is a member State of the United Nations, participates in its General Assemblies and approves the resolutions which provide for the implementation of Agenda 2030, needs to befit from the support of the United Nations in the implementation process. Allegra Baiocchi on her part while explaining further said the United Nations listens to Cameroon and together comes up with the best strategies on the implementation of SDGs. She noted that Cameroon had already completed the contextualisation and prioritisation process of SDGs. The Sustainable Development Goals (SDGs) were adopted by the United Nations General Assembly in September 2015 with the 2030 Agenda for Sustainable Development and can be divided into their various themes of people improvement, planet, prosperity, peace and partnership.
Same category