Defending Territorial Integrity : Fresh Cadet Officers To Spur Efficiency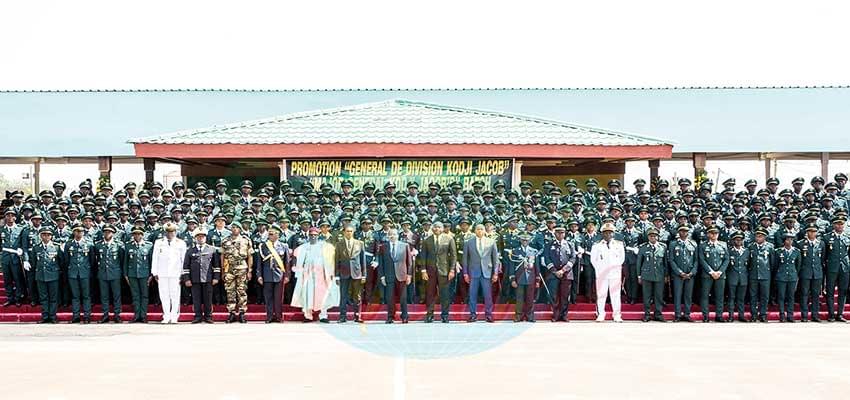 The Head of State, Commander-in-chief of the Armed Forces, Paul Biya, chaired the graduation ceremony of the 37th Batch of EMIA christened "Major General Kodji Jacob" on Friday January 24, 2020.
Government's efforts in levelling insecurity moun tains standing tall in Cameroon from North to South and East to West and which have for years now rubbished the country's hitherto cherished 'haven of peace' are expected to receive renewed impetus in the days ahead. In effect, fresh cadet officers from the Yaounde Combined Services Military Academy (EMIA); the 37th Batch christened, "Major General Kodji Jacob" are already on the field with high instructions to stretch full length to live beyond expectations.
The Head of State, Commander-inchief of the Armed Forces, Paul Biya, presided at the graduation ceremony of the young cadet officers last Friday January 24, 2020 at the ceremonial ground of the Headquarters Brigade in Yaounde. He urged the youngsters to copy the example of bravery, love for the Fatherland and strive for excellence, reminiscent of their mentor, late Major General Kodji Jacob, after whom their batch is named. The Head of State said the fact that Major General Kodji Jacob modelled his rich career on obedience to hierarchy, commitment and determination in the execution of his mission, selfless and dedicated to the Fatherland should be an inspiration to the batch bearing his name. Even the supreme price the valiant General paid, perishing in a helicopter crash on January 22, 2017 in Bogo on a survey mission on the area, should stimulate the youngsters for excellence. The fallen Major General Kodji Jacob, who was appointed to command the Fourth Joint Military Region in 2015, going by the Head of State's praises for him, throughout his career, distinguished himself through bravery, intelligence and closeness to his troops to contain and then reduce the capabilities of the terrorist sect Boko Haram. Though gone, his memories should guide the younger ones in the challenging but noble task. Before his speech, which served as a fatherly advice and listened to with rapt attention, President Paul Biya took time off upon arrival and after being welcomed by the Minister Delegate at the Presidency in Charge of Defence, Joseph Beti Assomo, to review the troops and thereafter personally affix the epaulettes on the shoulders of the best graduating Cadet Officer, Ahmed Mefire. Then came the Minister Delegate at the Presidency in Charge of Defence, Joseph Beti Assomo decorating the second best and his Secretaries of State, Defence Chief of Staff, Generals and Senior Officers (mentors) followed suit to change the youngsters from students to Cadet Officers ready and aptly empowered on republican values to adapt to the country's overall context and unreservedly defend Cameroon's territorial integrity under rain and shine. The seriousness read on their faces throughout the over one hour heavily-attended ceremony, synchronisation in their steps, the lessons learned throughout their three-year stay at EMIA coupled with their zeal to write their names in bold in the country's defence records are motivating enough to face asymmetric conflicts, combat cybercrime and be defenders of the well-being of fellow compatriots. All these putting in mind the respect of human rights. Working in synergy with the population to provide them assistance whenever necessary, establishing close collaboration with local authorities, remaining close to their subordinates, with due observance of discipline which is the strength of the armed forces, the Head of State told the Cadet Officers, "are conditions for the success of your missions."
Same category