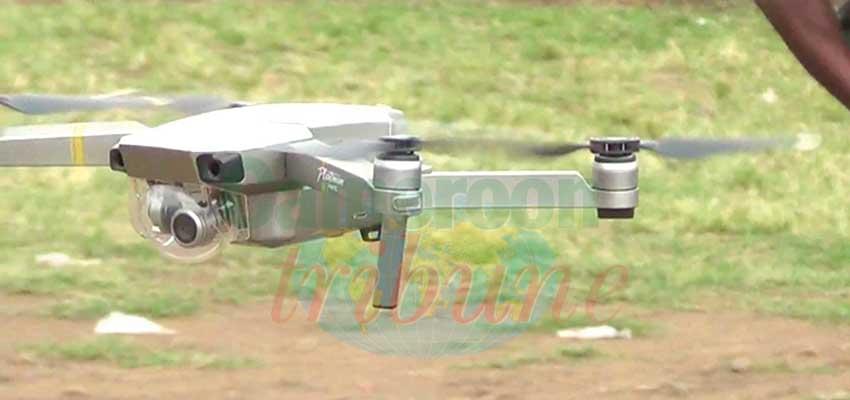 The National Gendarmerie has deployed a high stability digital eagle eye to abate crime wave in the South West Capital.
Armed robbery, street banditry, drug ganging, violence, kidnap and road blockade are henceforth minimalised in Buea. The National gendarmerie has acquired a wide range drone camera to put the area under aerial surveillance.
One of the recent outings of the drone operated by the Gendarmerie Legion in Buea was during the 9 February, 2020, twin polls when the digital eagle eye hovered over the South West capital city and succeeded to protect the 32 voting centres with some 149 polling stations for the Buea municipality. Consequently, no incident was reported in Buea during the election as such could be nipped in the bud. The drone, as a deterrent device against crime, is a high-end camera that flies in the air sometimes un-noticed but which efficiently detects suspicious movement by capturing still and video images. A drone can see through windows and if more sophisticated can attain images through walls.
As a deterrent measure, the daring men of the underworld will have to refrain from any activity that could put them under suspicion as nothing will henceforth go un-noticed. The drone camera can be moved and deployed at any corner of the South West for viewing and control. The central unit is permanently on the watch with large screens that surgically show movements of persons and material. An analytical team is permanently available in the control room to give directives. The Gendarmerie Legion Commander for the South West is leaving no stone unturned to ensure there is peace especially before, during and after Sunday elections. Even more is the race of hope in Buea billed for 22 February, 2020. The drone will secure the 42-kilometre race path up and down the Mountain as well as the starting point at the Molyko Stadium.

Same category