Olembe Stadium : Construction Work In Progess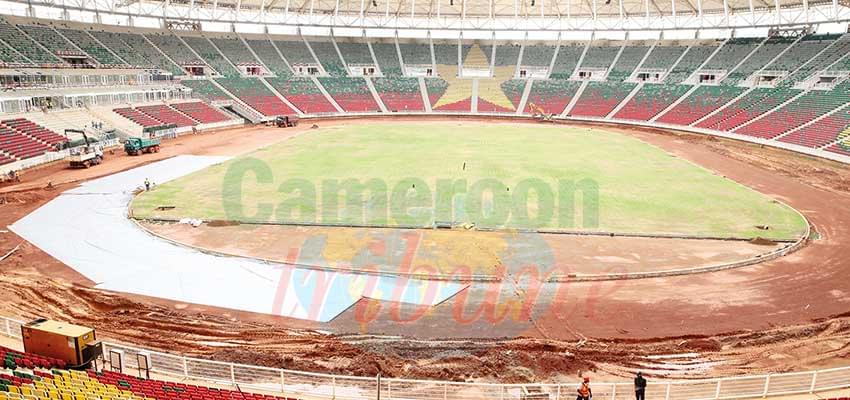 The Minister of Sports and Physical Education carried out an inspection visit at the Olembe Sports Complex yesterday, May 12, 2020.
Construction work at the Olembe Stadium earmarked for the 2021 Africa Cup of Nations (AFCON) is improving. The Minister of Sports and Physical Education, Narcisse Mouelle Kombi carried out an inspection visit to the construction site yesterday, May 12, 2020. The purpose of the visit was to evaluate the level of ongoing work in the sports complex by the Canadian company, Magil Construction and to ensure the company meets the deadline.
At the Olembe Stadium yesterday, the atmosphere was calm. Workers were busy going about their chores. The Minister was accompanied by the Governor of the Centre Region, Naseri Paul Bea and for the first time the Canadian High Commissioner to Cameroon, Richard Bale. After reception by the officials of Magil Construction Minister Narcisse Mouelle Kombi and his entourage were led on a guided tour of sports complex.
The Minister inspected the main stadium where the turf is already in place with natural grass and the athletics track is still under construction. Minister Narcisse Mouelle Kombi also visited works on the presidential tribune, toilets, the Annex Stadium number One and newly constructed parking lots, among others. The Vice President in charge of International Operations, Magil Construction, Franck Mathiere said the work done so far in sports complex is 80 per cent for the annex stadiums and almost 80 per cent for the main stadium. He said all the equipment to fight COVID-19 are in place and they are waiting to receive the first shipment of equipment so as to continue work. He said in July and August they will start with the first commissioning; that means water supply, power supply, lights, etc. "It is not an annex stadium but a major stadium of Cameroon and high standard in Africa so there is a lot of work to be done and a lot of experts have to come. We have to be ready for the next CAF inspection mission. So in July we will see the first testing and it will continue till October," he said.
Franck Mathiere said there are 1029 workers and most of the workers are Cameroonians because it is a Cameroon project. He said the number will be increased in the days ahead. He said with the COVID-19 the company has taken all the preventive measures and is working in strict respect of the barrier measures put in place by the government.