Natural Gas: Nigeria, Morocco Sign Trans-African Pipeline Deal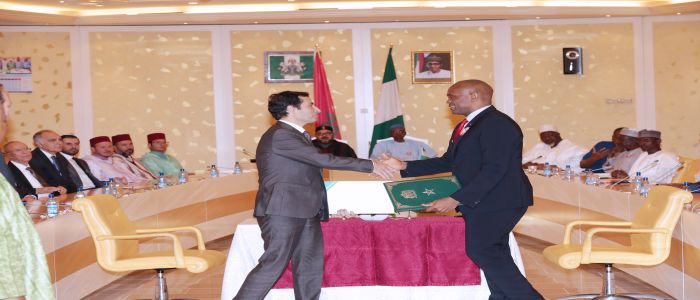 The 4,000-km pipeline is expected to boost commercial ties between the two nations.
King Mohammed VI of Morocco over the weekend wrapped up a two-day visit to Nigeria where he met with President Muhammadu Buhari. One of the outcomes of the visit was the signing of an agreement to construct a pipeline to link Nigeria's vast natural gas resources to Morocco and eventually Europe.
Agency reports said the bilateral agreements also covered investment, training, youth skills-building, oil and mining, tourism, infrastructure, banking, finance, insurance and logistics. The Trans-African Pipeline would be developed jointly by the Moroccan Sovereign Wealth Fund, Ithmar Capital, and the Nigeria Sovereign Investment Authority, the Vanguard newspaper reported on Monday, December 5, 2016. "The pipeline will run an estimated 4,000 km along the coast of West Africa. The countries through which it will run and the exact route will be determined as the project moves forward, based on further research," a source explained.
Meanwhile, Heirs Holdings and leading Moroccan bank, Banque Centrale Populaire (BCP), also signed a Memorandum of Understanding to collaborate in investing, co-financing and exchange of information encouraging the identification of mutually-beneficial investment opportunities across Africa. The framework document that outlines cooperation areas was signed by Heirs Holdings Chairman, Tony O. Elumelu and the Chairman and Chief Executive Officer of BCP, Mohamed Benchaaboun. Elumelu, who is also Chairman of United Bank for Africa, UBA, signed an investment and cooperation agreement with Attijariwafa Bank on behalf of UBA.
Both organisations, which have invested significantly in growing pan-African networks, will collaborate to identify common areas of interest and encourage investments in Morocco, Nigeria and Africa as a whole. According to Mr. Elumelu, "This is an opportunity for the private sectors of both countries to leverage on opportunities for sustainable economic growth. It shows that our leaders are committed to intra-African trade and to prioritising commercial relationships across borders. We recognise the importance of intra-African trade as a pillar of the continent's economic transformation."
Same category