Camp Yabassi : Motor Spare Parts Universe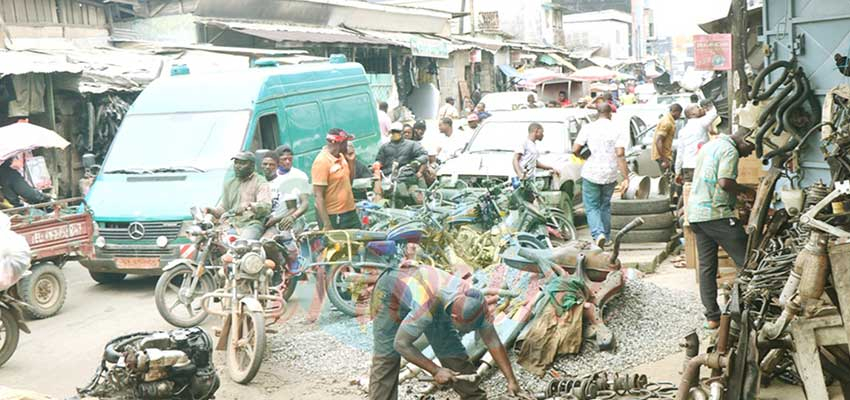 The neighbourhood is reputed for dealing in motor spare parts business.
Even in the midst of the cacophony, there is an apparent order in the city of Douala. It is as such that "Ancien 3è" is reputed for mobile phone business, "Hotel Le Nde", noted for the sales of second-hand vehicles and "Camp Yabassi" known as the universe for motor spare parts. It is usually said if one cannot find a motor spare part in the Camp Yabassi, then you will find it nowhere else in Cameroon. It is a small neighbourhood stretching from the Nkoulouloun market to the petrol station on the avenue leading to "Marche Mboppi'. It is said to have got its name from the first inhabitants of the neighbourhood who are said to have been mostly people from Yabassi area and there was a travel agency which bore that name in the area.
There area is a beehive of activities comprising traders, mechanics, panel-beaters, motor electricians, decorators, motor air condition technicians, installers of alarms and so on.
As a motorist approach the area, he or she is assaulted by a hordes of young men eager to find out what the motorist needs and at the same time inspecting the vehicle to see what is lacking so that they can propose their product or services. If it happens he can offer the item or service, he readily orientates to the motorist to the person who can supply the spare part or service needed. "Even if some bought a brand new vehicle and comes to Camp Yabassi, they will still find fault in it", said Dikalo Jules, a motorist. The hustle and bustle around the area makes circulation very difficult as there is constant traffic jam around the around.
The traders are specialised just as the technicians. For instance you have people who specialise only in selling body works spare parts such as bonnets, bumpers, spare carbine parts, while others specialise in second engine and engine parts. Others yet specialise in vehicle accessories like engine oil, brakes fluid, grease etc. there are those who sell only bolts, or only decorative items like car seat covers, steering whe...
Same category