CHAN 2021 Hosting: Cameroon Polishes up Preparations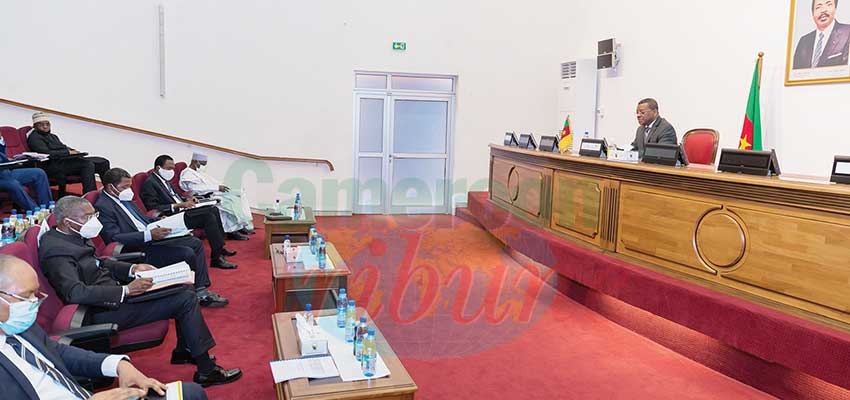 Prime Minister Joseph Dion Ngute on October 6, 2020 chaired an evaluation meeting.
Cameroon is practically ready to host the African Nations Championship (CHAN) that is programmed to run from January 17 to February 7. 2021 in Cameroon. Prime Minister, Head of Government. Chief Dr Joseph Dion Ngute chaired the 26th session of the National Committee tasked with preparing 2016 and 2019 African Football Cup of Nations Competitions.
At 100 days to the start of the competition, Prime Minister Joseph Dion Ngute said, it was indispensable to evaluate the level of preparation in terms of infrastructure, organization and sports. This will enable the country do necessary adjustments before the D-day. The Head of Government situated the context, stating that Cameroon was initially programmed to host the African Nations Championship (CHAN) from April 4 to 25, 2020 but the outbreak of the coronavirus pandemic compelled the event to be postponed alongside other world sporting events. Considering the drop in the curve of COVID-19 in Africa and the progress Cameroon has made in the prevention and treatment of its patients, the Confederation of African Football (CAF) has reprogrammed CHAN to take place in Cameroon.
Sports And Hotel Infrastructure
The Coordinator of the Technical Operational Unit. Attaché Ewane did a succinct in-camera presentation of their state as at September 30, 2020. He presented the situation in the various main and training stadiums in localities that are Yaounde Douala, Limbe/Buea, Bafoussam and Garoua. Some stadia just need finishing, follow up and installation of some technical equipment. As for hotels, the report indicated no major worries.
Organisation
The Minister of Sports and Physical Education. Professor Narcisse Mouelle Kombi still in an in-camera presentation indicated how far the 15 committees set up for the purpose have worked up to October 6. 2020. He highlighted some challenges that have to be tackled. He indicated that the next CAF inspection mission will be in Cameroon in the second half of the October 2020. He said, this necessitates a pre-visit of all infrastructure. The CAF mission, he said, must be reassured of all practical, realistic and pertinent measures to guarantee the expected results.
As for the preparation of the National football team, the Indomitable Lions for CHAN 2021, the President of the Cameroon Football Federation (FECAFOOT), Seidou Mbombo Njoya announced a four-month programme that will span through mid-September 2020 to January 2021. He said the training programme will end one week to the start of the competition. Meanwhile between December 29, 2020 to January 7, 2021, a four -nation mini tournament will be organized in Cameroon. The nations concerned are Cameroon, Uganda, Zambia and Niger.
Same category