Book Launch : Initiative To Heal The Inner Soul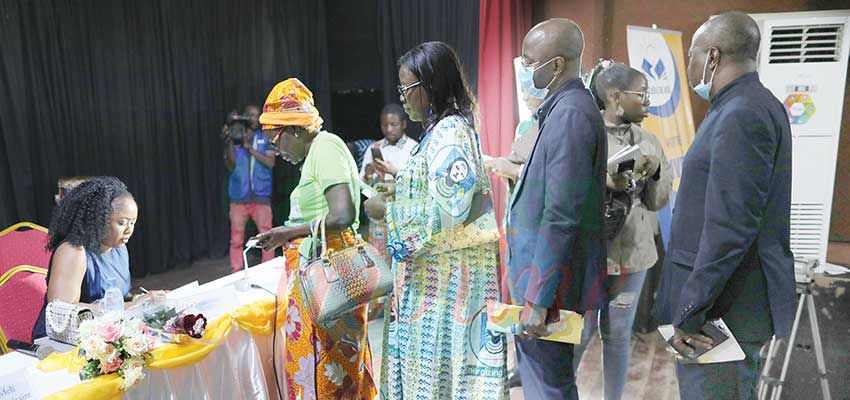 This is the motive of Danielle Eyango in her poetic work titled, "Le parfum de ma mère" launched October 13, 2020 in Yaounde.
I write to heal the inner soul. Those were some of the striking words pronounced by Danielle Eyango during a ceremony to launch her collection of poems titled "Le parfum de ma mère" on October 13, 2020 in Yaounde. Via literary devices such as personification, hyperbole, metaphor amongst several others, the author was able to bring out the themes of despair, frustration, pain and then a feeling of hope at the end of the tunnel. The collection of 17 poems published by Editions De Midi illustrated with paintings narrates the youthful ordeals of the author and portrays the strong relation that exists between mother and daughter. "When I smell the perfume of my mother, there is that burning desire for me to scrabble something," she says, "Even when I try to fight that spirit, the force that comes with it seems to be beyond control".
Mindful of the fact that poetry is a difficult genre to digest, Eyango has come out from the complete text form style. The author plays with words, uses a well calculated rhyme scheme and illustrates with images to make it flow. "A poem is that which can be sang; it makes it really beautiful in the eyes", she says. As for the paintings, Danielle Eyango states that it will attract even reluctant readers to discover the content of the poems. She further establishes a connection between her and the reader. "The author and the reader have to make love and at the end the exercise, the remark can be positive or negative," she states but admits that negative remarks which punch her on the face is a motivational factor to work harder. Authentic writing drawn from true live experiences, she says, is what creates a strong bond between the reader and the author. In poems like "le parfum de ma mère", L'innocence s'est envolée », « La rose de ma solitude », the author paints a picture of her tough childhood. "
Le Parfum De Ma Mère," the flagship poem won the 3rd prize of the Africa Poetry 2020 competition. Danielle Eyango is a Cameroonian writer who wrote her first novel in 2012 Kotto Bass, Comme un oiseau en plein envol".
"Le parfum de ma mère" is sold for FCFA 5,000.
Same category