Tokyo 2021 Women's Qualifiers : Indomitable Lionesses Commence Preparations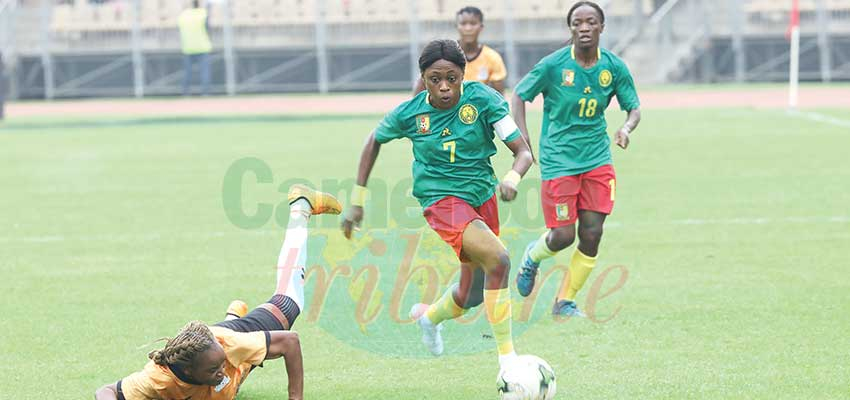 Some 28 players are training in Yaounde ahead of the two-legged intercontinental play-off against Chile next month.
The Indomitable Lionesses of Cameroon will play a two-legged intercontinental play-off against Chile in women's football next month. Ahead of the competition, the head coach of the Indomitable Lionesses, Alain Djeumfa Defrasne has invited 28 players to camp. The second gathering will take place in Yaounde from January 6 to 23, 2021 in Yaounde.
Read also :
Infrastructures de la CAN à Garoua : la course contre la montre
On Alain Djeumfa's list are seven goalkeepers, eight defenders, eight midfielders and five attackers. Out of the 28 players invited five are plying their trade abroad. They are Ewodo Gladis (Saint Petersburg, Russia), Njolle Ngondja Alvine (FC Minsk Bielorussie), Voulania Dabda (Dynamo Minsk Bielorussie), Zouwairatou Moussa (Hameh FC Bielorussie) and Nkada Agnes (Pelicura Mixtafriol, Spain). The other 23 players are home-based. The players are expected to train twice daily. It will be an opportunity for the coach and the technical staff to evaluate the players before the competition.
Read also :
Elite One : la phase aller s'achève
The Lionesses will play the first leg game in Yaounde against La Roja Feminina of Chile on Thursday February 18, 2021 before traveling to Chille for the return game on Wednesday February 24, 2021. Both games were initially scheduled for April 2020 but were suspended in the last minute due to the Coronavirus pandemic. Cameroon is playing as runners-up from the African zone following their 4-4 away goals rule defeat against Zambia while Chille will be taking part in the competition as South American Vice champions. Chille emerged runners-up in their continental tournament. Cameroon will be seeking for a second ticket to the Olympic Games. Their first participation was at the 2012 Olympic Games in London. Chile on their part will be out to grab their first ticket to the Olympics. The clash is going to be the first FIFA-organized game between both nations.
Read also :
Eliminatoires du Mondial 2022 : 36 Lions présélectionnés
Same category