NW Regional Assembly : Executive Bureau takes Oath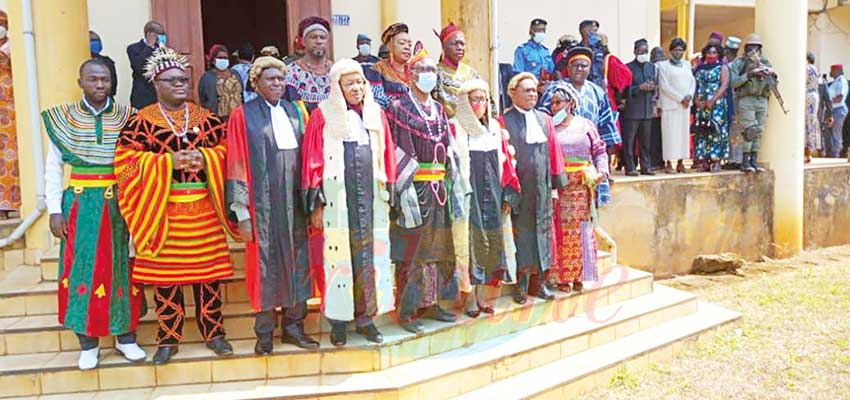 Chief Justice Nyajro Anna Povi President of the Appeal Court, on the strength of Submissions by the Attorney General;Chief Justice Njie Albert ordered all eight Bureau members to take office and serve the region.
Led by the President of the Regional Assembly, Prof.Angwafor III Fru F, each Bureau member swore in honour at the North West West Court of Appeal, sitting on in it's ceremonial role to loyally and faithfully discharge duties without discrimination or favouritism in accordance with the law and values of democracy and under the principles of Unity and integrity of the Republic.The Attorney General of the North West Court of Appeal;Chief Justice Njie Albert's submission found the Bureau members good for use with a reservoir of education, common sense and national pride..The Attorney General admonished them to tell the truth using their great store of wisdom to radiate love, unity and hope in the people of the North West.
Read also :
Reconstruction of the South West Region : Japan Pledges Support
It was on the strength of the submission that the President of the Court of Appeal, Chief Justice Nyajro Anna Povi ruled, stressing services to the North West as their priority. She said the solemn oath taking ritual reflects Cameroon's history, traditions and Constitutional arrangements.The Bureau members were challenged to remain loyal and faithful to their commitment and bring local development to the region and improve the living environment.
Read also :
Regional Council By-Election : Two Lists Retained
It also featured readings of relevant laws, texts, rules and regulations on the Code on Decentralisation and the inception of the Regional Assembly.
Read also :
Centre : revoici Tsimi Evouna
Same category