Cameroon-FIFA : Growing Mutually Beneficial Cooperation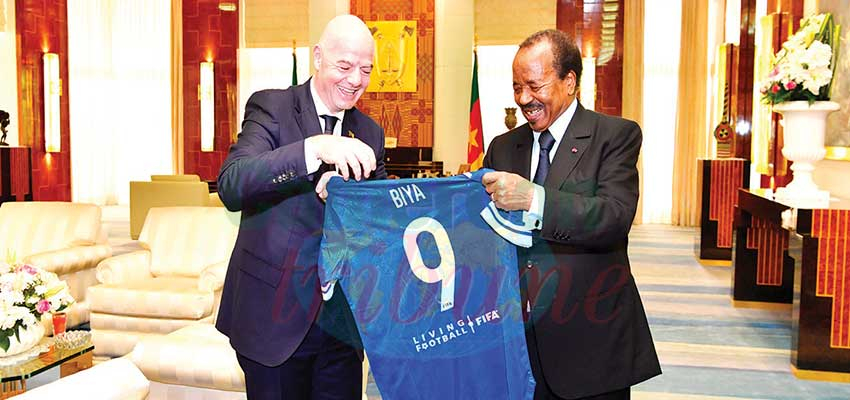 President Paul Biya on January 15, 2021 had Unity Palace discussions with Gianni Infantino, the visiting President of the World Football governing body FIFA.
Relations between Cameroon and the world's football governing body, International Federation of Football Associations (FIFA) are growing and mutually beneficial with the ultimate goal of promoting and developing the game of football.
The relations are being further strengthened on the occasion of the current maiden visit of Gianni Infantino, FIFA's President to Cameroon not only to participate in the Confederation of African Football (CAF) executive bureau session but more importantly to take part in the opening ceremony of the 6th edition of the African Nations Championship (CHAN) 2021 Cameroon is organising from January 16 to February 7, 2021.
FIFA's President Gianni Infantino and President Paul Biya of Cameroon during Unity Palace discussions on Friday, January 15, 2021 laid the framework of fostering the relations. Gianni Infantino used the occasion to declare the readiness of FIFA to stand by and collaborate with Cameroon. He also disclosed that FIFA needs the support of great world football countries, stating that Cameroon was among the countries. Cameroon has left indelible imprints in world's football history, one according to Gianni Infantino being the first country to organise an international football competition within the context of the COVID-19 pandemic. The President of FIFA said this is highly symbolic as Cameroon is a historic football country, a symbol of African and world football that makes Cameroonians and all football lovers to dream.
Cameroon relates to FIFA through the Cameroon Football Federation (FECAFOOT) and the country got affiliated to FIFA in 1962. The President of FIFA masters Cameroon football history well and that is why during the discussions with President Biya he said FECAFOOT has passed through a period of turbulence that is being resolved. At moment, he added, FIFA was at the same wave length with FECAFOOT. He also knows emblematic national football clubs in Cameroon such as Canon, Tonnerre which he told journalists after the Unity Palace discussions, that the modern sports infrastructure in the country could be used to make them shine again in the national and international scenes. Cameroon, through the former President of CAF, Issa Hayatou had participated in the management of FIFA as he served as the world football governing body's acting President from 2015 to February 25, 2016.

Same category