CHAN 2020 : Lions Strategising For Tomorrow's Game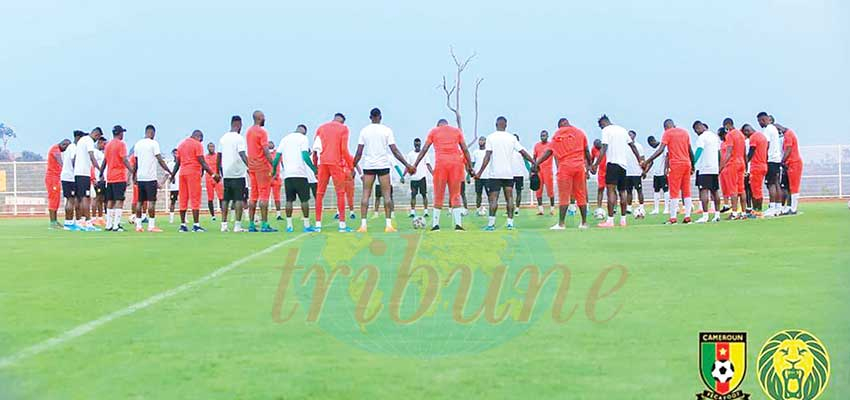 After grabbing the first three points, the players are training hard to win their second match against Mali so as to secure a place in the next round.
Read also :
Coton Sport : le come-back dans l'élite
The Intermediate Lions of Cameroon are one step ahead of getting their qualification ticket to the second round of the African Nations Championship (CHAN) after winning their first match against Zimbabwe in the opening game. But this will only be possible if they grab another three points in their second game against Mali on Wednesday January 20, 2021. It is in a bid to get the most cherished six points that the Intermediate Lions immediately got back to business after the victorious opening game on January 16, 2021 at the Ahmadou Ahidjo Stadium. On Sunday January 17, 2021, just one day after the victory, the intermediate team took to the Olembe annex stadium for a light training session given that they were just from an exhaustive match.
Read also :
Election à la CAF : Yahya et Anouma présentent leurs programmes
Meanwhile, yesterday, Monday January 18, 2021, the team got the compulsory Covid-19 test and were expected to have another training session at 5 p.m. The training sessions, Coach Martin Ndtoungou Mpile hinted, will be focused on finishing so as to score more goals in upcoming matches. This, he said, perhaps because Cameroon had so many scoring opportunities in the previous match but failed to use them wisely. Talking to Cameroon Tribune reporters after the opening victory, the trainer said he would equally be working on tactical operations to ensure
Read also :
« Le championnat va se poursuivre sans anicroche »
flexibility and to see that the boys stand firm in the imminent game. For today, Tuesday, January 19, a press conference has been programed to give updates of the Lion's preparations and make final touches ahead of the decisive game against Mali. The Eagles of Mali, it should be recalled, equally grabbed three points after beating the Stallions of Burkina Faso 1-0 in the second Group A game at the Ahmadou Ahidjo Stadium.
Read also :
Foot business : une plateforme pour attirer les investisseurs
Cameroonians are therefore waiting for tomorrow's encounter at the Ahmadou Ahidjo Stadium at 5 p.m. pitting Cameroon against Mali with a lot of enthusiasm, given that it partially decides the fate of both nations in the ongoing African Nations Championship.
Read also :
Australian Open : Novak Djokovic, Naomi Osaka Triumph
Same category