Tanzania: First Female President Takes Oath Of Office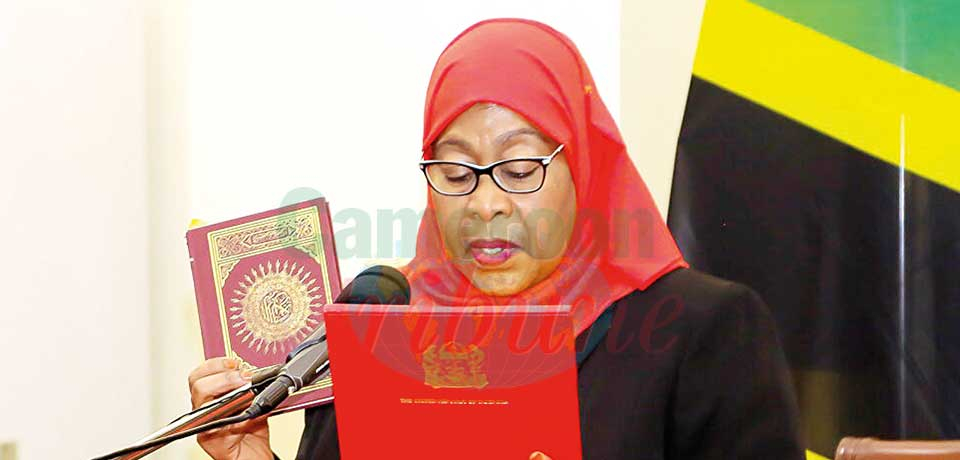 This follows the passing on to glory of John Magufuli after a heart complication.
Tanzanian Vice President Samia Suluhu Hassan was sworn in on Friday, March 19, 2021 as the country's first female President, two days after the death of President John Magufuli. Samia Hassan took the oath at the statehouse in the city of Dar es Salaam in a televised ceremony on state TV. In an address shortly after she was sworn in, Hassan said Magufuli's body would be moved to several locations around the country over the next few days for private and public farewell events. She gave little indication on whether she intends to change course from Magufuli. "It's not a good day for me to talk to you because I have a wound in my heart," said Hassan, in Kiswahili.
Read also :
Table Tennis : Tough Battle This weekend
Samia Suluhu's swearing-in on Friday makes her the first female President in the country. Wearing a hijab and holding up a Quran with her right hand, the 61-year-old Hassan took the oath of office at State House, in Dar es Salaam, the country's largest city. The inauguration was witnessed by Cabinet members, former Presidents Ali Hassan Mwinyi and Jakaya Kikwete. She will have two major tasks. Deal with the Covid-19 pandemic which has been very disastrous and address Magufuli's legacy of a repressive state. President Hassan will complete Magufuli's second term that began in October 2020, and is eligible to stand for one-year presidential term only and not two. She will also have the task of selecting a new vice-president from the ruling party who will be validated by the Parliament.
Read also :
RDC : le Nord-Kivu et l'Ituri au pas militaire
She has had a meteoric rise in politics in a male-dominated field. John Magufuli selected her as his running mate in 2015. After the victory, she became the second woman to become vice president in the region, after Uganda's Specioza Naigaga Wandira who was in office from 1994 to 2003. Born in Zanzibar, Tanzania's semi-autonomous archipelago, in 1960, Hassan graduated from secondary school in 1977, studied statistics and worked with the government, the World Food Programme project in Tanzania in 1992, earned a Postgraduate Diploma in Economics from the University of Manchester in London. In 2005, she grabbed a Master's degree in Community Economic Development from University of Tanzania and Southern New Hampshire (U.S.A). Entered politics in 2000 and became a member of the Zanzibar House of Representatives. In 2010, she won the Makunduchi Parliamentary seat. Was appointed Cabinet Minister in 2014 and became vice-chairperson of the Constituent Assembly that drafted a new constitution for Tanzania, a role in which she won respect for deftly handling several challenges.
Read also :
Mali : Woman Gives Birth To Nine Children
Same category