Vulnerable, Underprivileged Children: Cameroon, UNICEF Offer Videography, Photography Skills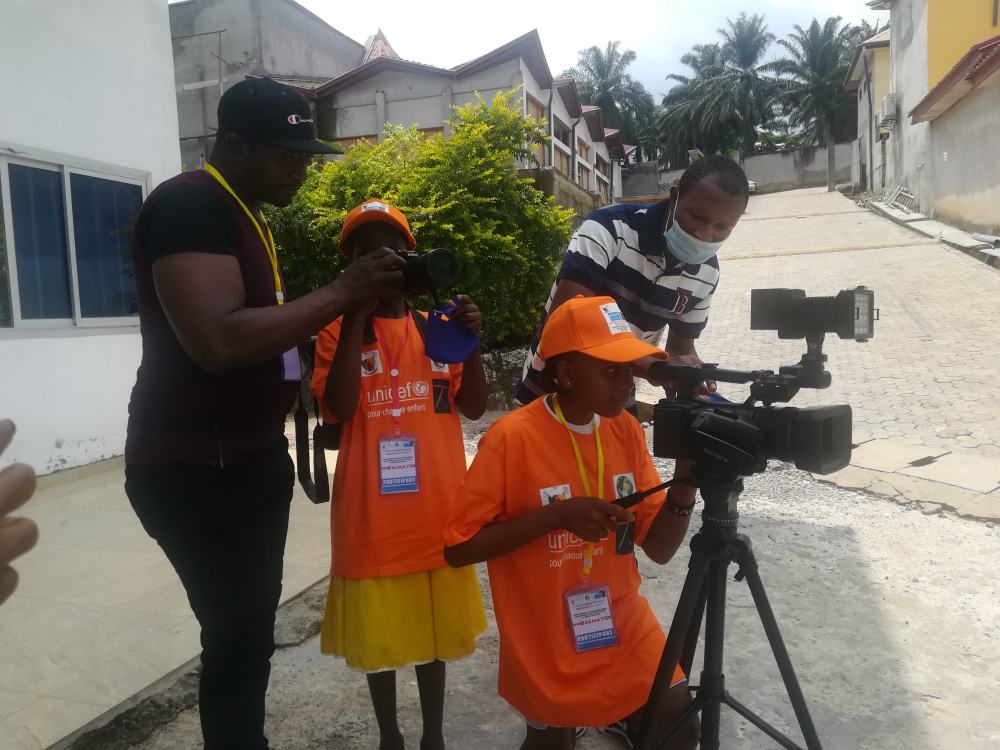 A three-day training holding in Mbalmayo near Yaounde is jointly facilitated with the PENASED Non-governmental Organisation.
The Ministry of Communication, the United Nations Children's Fund, UNICEF, the Ministry of Social Affairs, MINAS and the charity, Pentecostal Advocates for Socio-economic Development, PENASED, on May 17, 2021 began a videography and photography workshop for 20 vulnerable and underprivileged children. The participants aged 10-24 are from Lekie, Mfoundi and Nyong and So'o Divisions in the Centre Region.
Read also :
Climat social à Hevecam : le nouveau DG veut communiquer
Why The Training, Now?
Read also :
Procès en béatification : un Camerounais sur la route des Saints
Despite the putting in place by Cameroon of a legal framework to protect children, especially by ratifying almost all international legal instruments, formal and community systems for child protection remain wanting. Thus, the protection accorded children victims of abuse, violence, exploitation and the vulnerable, remain insufficient, uncoordinated and lacking. Compared to their specific needs.
Read also :
Frère Jean-Thierry Ebogo : une vie dédiée à Dieu
It is for this reason that the training from May 17-19, 2021 is holding in Mbalmayo on the outskirts of Yaounde. Sponsored by UNICEF, it is jointly facilitated by officials of the Ministry of Communication and PENASED. The workshop is the second in the Centre Region after a first one from late March to early April 2021 in Yaounde. Similar workshops have held in the East, North, Far North and Littoral Regions. Thus this pilot project covers five of Cameroon's 10 administrative regions.
Read also :
Fonction publique et Réforme administrative : les premiers secours arrivent
Government's Willingness
Read also :
Protecting Children : Legal Frameworks Under Review
Opening the workshop, Aristide Manga Assiga, the Nyong and So'o Divisional Delegate for Communication, urged participants to take advantage and come out of a life of pity and vulnerability; promising government's willingness to continue to protect vulnerable and underprivileged children in the country. "The workshop is meant to help vulnerable children to discover the career options open to them in videography and photography. Pictures are so important because they tell stories and can earn money for their authors," Manga Assiga justified.
Read also :
Hôpital de district de Kribi : une unité de réanimation en gestation
Set For Employment Challenges
Read also :
« PNM vise à relever le défi d'employabilité »
He said children do not have to wait until they grow up before thinking of what to do in life. "The earlier vulnerable and underprivileged children are trained, the better they will be in facing life's challenges, especially employment," Assiga noted. Wambia Denise, Nyong and So'o Divisional Delegate for Social Affairs, expressed hope that the training will enable the children to earn a living even in later life. Or during holidays "because parents cannot afford all of their children's needs."
Read also :
Bepc et Cap 2021 : dans le vif du sujet
Perceived Discriminated
Read also :
Baccalauréat général : des épreuves qui dérangent
"Vulnerable and underprivileged children often think they are discriminated against. The training offers them the opportunity to socialise, given that they are psychologically affected and easily believe that they do not have what others own," Wambia Denise explained.
Read also :
Assainissement à Yaoundé : le coup pouce du maire
"It is better to train someone to fish than offer them fish," Watto Joseph, PENASED Executive Coordinator, stressed. He explained that most of the children were not expected to become professional photographers and videographers now. But by developing early interest, they could build on such careers later in life.
Read also :
Occupation anarchique de la chaussée : le mal persiste à Yaoundé
Opportunity To Earn Decent Living
Read also :
Vaccin du personnel de santé : Kribi traîne le pas
Ngomassongo Alice, 13, a physically-challenged Form Two Home Economics student of Government Technical High School, Mbalmayo, said she was interested in the training because it will enable her to do videos and take pictures. "I am grateful to UNICEF and PENASED for the training and the offer of a tablet to enable me earn a decent living," she said. Nganje Frida, 16, an internally-displaced Lower Sixth student of NESCAST, Biyem-Assi, Yaounde, expressed gratitude for the opportunity to learn photography and videograhy skills.
Read also :
31st Day of the African Child: UNICEF, MINAS Discuss Child Abuse, Exploitation
Coping With Fast-evolving World
Read also :
Vaccination contre le Covid-19 : les imams prêchent par l'exemple
Nganje, who was forced to move to Yaounde from the South West Region in 2017 because of war, noted that "the world is opening up fast and it is no longer only about what you learnt in school because education has become more inclusive." According to Bendjoni Nathalie, 22, a Central African Republic refugee Lower Sixth Home Economics student of Government Technical High School, Mbalmayo, the skills will help her to train young people in her country when she returns home.
Read also :
« C'est un devoir à la fois divin et citoyen »
Rigorous Selection
Read also :
BEPC 2021 : les bilingues donnent le ton
Meanwhile, workshop participants were selected by the Ministry of Social Affairs based on the 2009 classification of vulnerable children and women in Cameroon requiring protection. They are put into 8 categories – children in conflict with the law, living or eking out a living on the streets, from separated parents, maltreated, exploited, refugee or internally-displaced, physically-challenged, and those living with HIV/AIDS.
Read also :
Bureau international du Travail : le Cameroun élu membre titulaire
National Contest
Read also :
Cambriolage aux Impôts : des suspects interpellés
Organisers say the works of three outstanding participants will be selected at the end of the workshop in Mbalmayo to compete at a national videography and photography contest in Douala next month for vulnerable and underprivileged children from five regions. Prizes will be awarded by UNICEF. Meanwhile, participants at the Mbalmayo workshop will either take home tablets or photo cameras – all offered by UNICEF.
Read also :
WhatsApp : Privacy Policy Preoccupies Users
Same category