Cameroon-Equatorial Guinea : Regional Integration Allies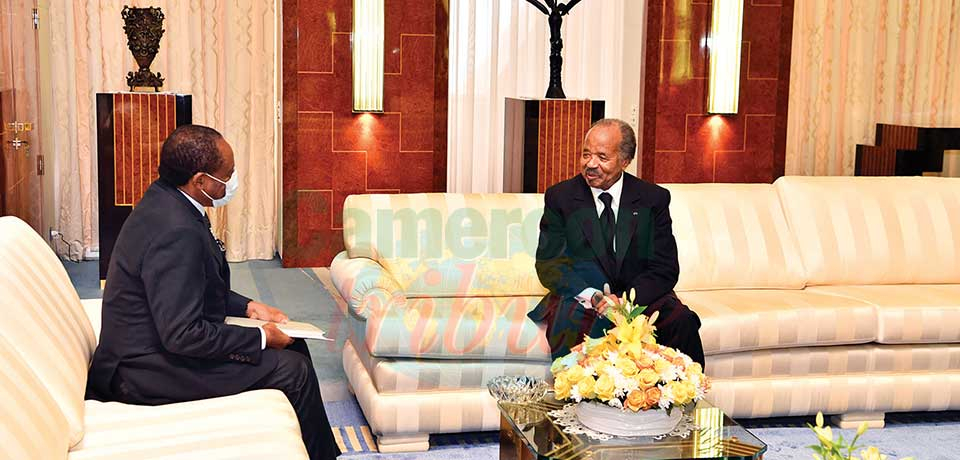 Promoting sub-regional integration within Central Africa is a constant preoccupation for Cameroon and Equatorial Guinea. Both countries share ideas and cooperate on projects that foster regional integration. The subject was thus at the centre of discussions during an audience the President of the Republic, Paul Biya granted the Equato-Guinean Minister of State for Regional Integration, Baltasar Engonga Edjo'o on May 28, 2021. He was also the bearer of a sealed message from President Teodoro Obiang Nguema Mbasogo.
The construction of a bridge over the Ntem River, on the Kribi-Campo (Cameroon) to Bata (Equatorial Guinea) corridor which seeks to strengthen and increase movement of persons and goods, ease and promote trade, as well as ensuring safe crossing over the river, came under discussions at the Unity Palace. Constructing the said bridge will speed up commercial relations between the two countries in particular and the sub region in general.
Cameroon and Equatorial Guinea are neighbouring nations which belong to the same regional economic blocs like the Economic Community of Central African States (ECCAS) and the Central African Economic and Monetary Community (CEMAC) besides being members of the African Union and the United Nations. Several accords for mutual growth exist between the two countries that share historical ties.
As two friendly and brotherly nations, they support e...
Same category