Enseignement supérieur : 20 bourses en TIC offertes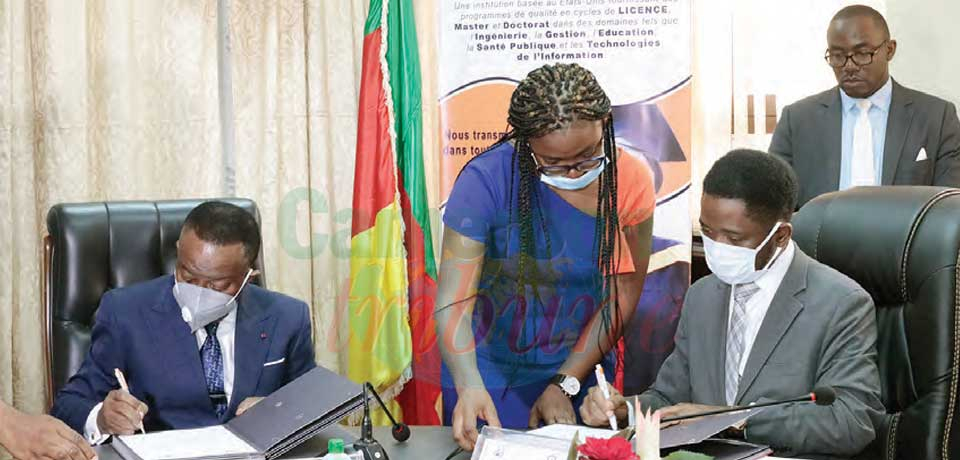 C'est l'objectif phare du protocole d'accord signé hier à Yaoundé entre le ministre d'Etat, le Pr. Jacques Fame Ndongo, et le Pr. Victor Mbarika Wancham de l'ICT University.
Bonne nouvelle pour les étudiants des niveaux Master et PhD de l'institut privé d'enseignement supérieur l'Information and Communication Technology (ICT) University de Yaoundé. Désormais, ils pourront bénéficier de bourses académiques gratuites. C'est le fruit d'un accord de partenariat signé hier entre le ministre d'Etat, ministre de l'Enseignement supérieur (Minesup), le Pr. Jacques Fame Ndongo, et le président du Board of Trustees de l'ICT University, le Pr. Victor Wancham Mbarika. « Ces bourses se traduisent en une exonération totale des frais de formation pour les étudiants bénéficiaires, sélectionnés en étroite collaboration avec le Minesup », a assuré le Pr. Fame Ndongo.
Constitué de 12 dispositions, ce protocole d'accord définit le cadre qui va régir l'octroi des bourses pour une période de cinq ans renouvelable. Ainsi, il permet un accompagnement dans la formation des étudiants dans les domaines des technologies de l'information et de la communication, par l'acquisition de bourses pour la préparation du Master et du PhD dans l'une des filières concernées par les TIC et enseignée par ICT University. En termes d'engagements, le Minesup assure l'appui institutionnel à la réalisation des objectifs de ce protocole. De même, il devra rendre publique l'offre de bourses et participer à la sélection des étudiants bénéficiaires, en apportant son expertise. De son côté, l'ICT University a quelques obligations. Entre autres : se conformer à l'ensemble des lois et règlements en vigueur au Cameroun ; prendre part à la définition des profils des bénéficiaires des bourses ; procéder à l'exemption de frais de formation à chaque étudiant bénéficiaire de ce programme de bourses.
Le Pr. Victor Mbarika de l'ICT...
Same category