Upgrading Enterprises : Thirty Six Enterprises Sign Agreement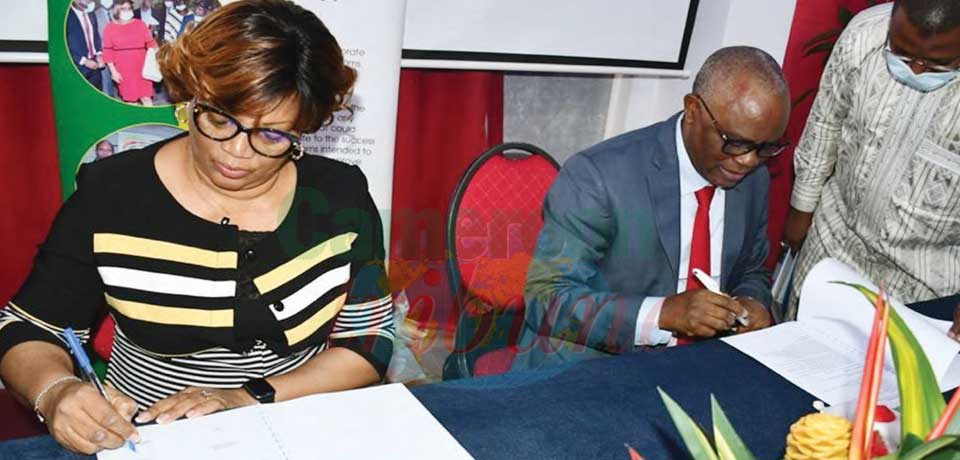 Amongst which are 26 hotel establishments selected and recommended for CAN 2021.
The Enterprises Upgrading Office known by its French acronym as BMN on Thursday July 29 signed a partnership agreement with some 36 companies and establishment in Douala. The partnership agreement will enable the companies to upgrade their services so as to meet up with the changing times. Amongst the companies that were qualified for the partnership agreement were 26 hotels that have been selected and recommended for the upcoming African Nations Cup to be hosted by Cameroon.
During the signing ceremony, the General Manager of the enterprises upgrading office Chantal Elombat Mbedey reiterated that the partnership agreements is not just a formality and the companies applying for the upgrade have a lot to benefit. She said it is important for both parties to respect the terms and work for the good of the company. To her, building the skills of staff in the different companies is a priority as they have to improve on their production and services. She used the opportunity to thank the ministry of Tourism and Leisure for making it possible for some hotels selected for CAN to be part of the upgrading system. "I see it as a mark of commitment to working alongside with BMN to strengthen the performance of your companies, and therefore the competitiveness of the Cameroonian economy". For the companies, the agreement is an opportunity for them to build their capacity; improve on their performance so as to meet up with the ever competitive business climate.
Madam Chantal Elombat Mbedey explained that the mission assigned to BMN is carried out within the framework of the National Upgrade Program (PNMAN). "PNMAN that governs the relationship between BMN and the co...
Same category