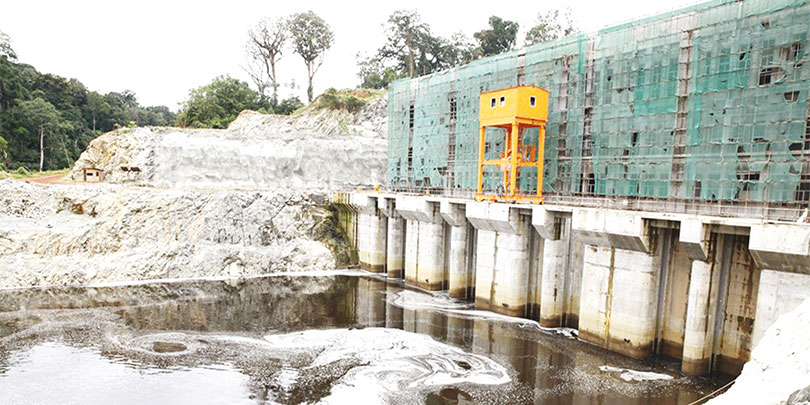 Water Resources and Energy Minister yesterday presided at the official partial filling ceremony at the project site
A single gesture was enough to tell the story of the effective commencement of the water filling operation into the intake reservoir for the production process of energy by the Memve'ele Hydroelectric Project at the little locality of Nyabizan in the South Region. The joy of attaining the 92 per cent rate in the whole gamut of the hydroelectric project implementation threaded through the population present at the ceremony.
It was occasion for the Minister of Water Resources and Energy, Basile Atangana Kouna to re-echo the importance of energy in the country's development process as repeatedly underscored by the Head of State, President Paul Biya. Yesterday's ceremony which constituted in partially injecting water into the intake reservoir upstream, Atangana Kouna said, was of crucial importance especially as it set out to fill the major reservoir that will stock water for a few days in order to observe the behavioural pattern of the retaining dyke.
The event that was marked by traditional rites from the patriarch of Nyabizan, Eba Mve Moise, who opened the way for the ceremony with incantations to the ancestors crowned by the offering of gift in the form of coins into the water, opened floodgates of hope and confidence translated in the fact that it will finally see the light of day in 2017 as programmed.
The representative of the Chinese Ambassador was clear in his speech when he stated his country's determination to continue to participate in implementing similar projects in Cameroon. "Energy is important to the economy as blood is to the human body", he said. Once launched, it will take three to four days for the intake reservoir to get filled, the project Director, Dieudonne Bisso assured. In the same manner as the Director of Synohydro Corporation Limited, Bisso stated with all confidence that the project is moving on according to schedule.
The ceremony equally consisted in visiting some installations that constitute important components of the project. These included: the Technical Control Centre, the booster station where energy is raised, and the power house. The current released from the power house which will incidentally go through the booster station is estimated at 225 KV. In effect, two energy supply lines will emerge from the booster station, 225KV transmitted through the Ebolowa step down transformer to Younde and 90 KV which will serve the local population in the Ma'an Sub Division and slightly beyond.
Minister Atangana Kouna assured the population during a short discussion with the press that the socio-economic programme (PASEM) aimed at accompanying them is advancing smoothly. Government, he said is determined in getting the programme through. Located on the Ntem River, near the Nyabizan village in the Ma'an and Campo Sub Divisions, Ntem Valley Division, the Memve'ele Hydroelectric Project is estimated at FCFA 243 billion.
Same category