NW Regional Assembly : LIMONA-Medshare Healthcare Offer Medical Supplies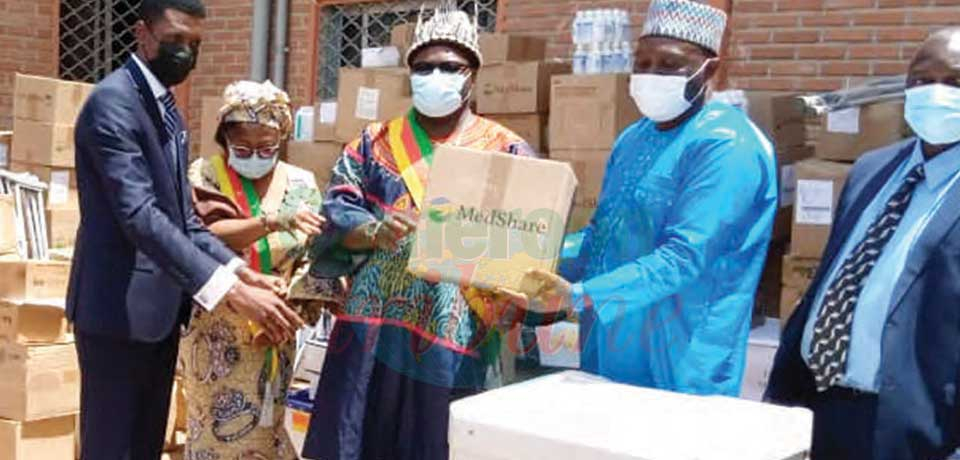 The Foundation celebrates new opportunities in quality healthcare with pioneer North West Regional Executive Council.
Health care delivery in the North West Region has been strengthened with medical supplies and equipment with about FCFA 50 million. To thank for the donation are fruits of a public-private partnership that pays in the era of decentralization. The Vice President of the North West Regional Executive Council who is also the President of the House of Chiefs, Fon Kelvin Shomitang led the delegation of officials who received the medical supplies and equipment, generously donated by U.S-based LIMONA Foundation in partnership with Medshare International on October 8, 2021.
The Co-Founder and Cameroon Country Director of the Foundation, Nfinyo T. Mabu delivered the supplies in Bamenda, stressing that it was part of a protocol towards bringing treatment to the pains that communities are experiencing in the face of challenges blamed on the socio-political and security crisis rocking the North West Region. Healthcare professional and an illustrious son of the region, Roger Mforneh Ngwa of Medshare outfit and other sons of the land also take credit for the partnership that made the donation possible.
Among the lot received by the Vice President of the Regional Executive Council, HRH Kevin Shomitang were; crutches, stretches, wheel chairs, bed, hill rom, meme care, p870w/ mattress and transformer, crash carts, warming gowns, clean birthing kits, gloves, catheters, face masks, needles, disposal temperature probes, sutures, syringes, blankets etc. It emerged from the North West Commissioner of Health and Social Development, Dr. Yaah Fondufe Sakah Lydia that the medicines and equipment will strengthen healthcare delivery and inspire hope in poor and vulnerable patients.
The Regional Delegate of Public Health, Dr. Che Soh Kingsley celebrated the gift of essenti...
Same category