2021 TotalEnergies AFCON Infrastructure : CAF Commends President Biya's Commitment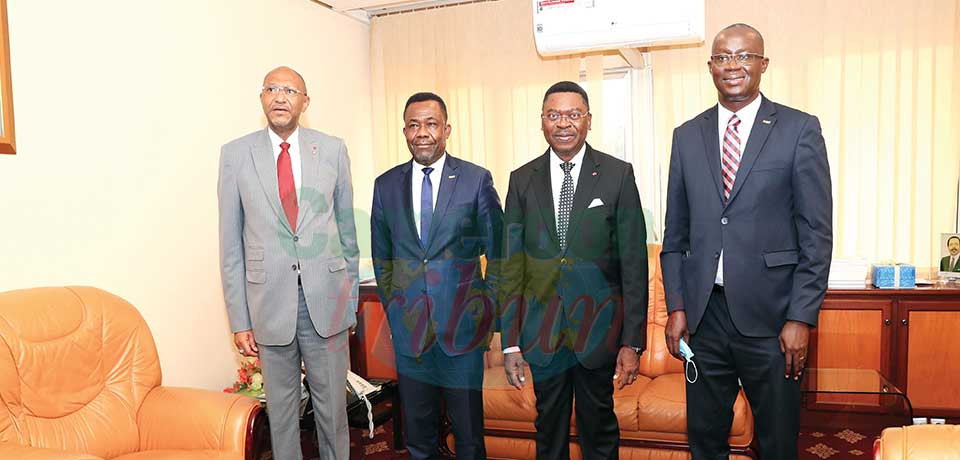 The Minister of State, Secretary General at the Presidency of the Republic on October 22, 2021 granted audience to the institution's First Vice President and Secretary General.
The Confederation of African Football (CAF) has described as laudable efforts put in place by Cameroon's Head of State, Paul Biya, to make the 2021 TotalEnergies Africa Cup of Nations (AFCON) which the country will host from January 9 to February 6, 2022 an exemplary one in the history of the continental football competition. CAF's First Vice President, Augustin Senghor, commended Cameroon's strides on Friday October 22, 2021 after an audience the Minister of State, Secretary General at the Presidency of the Republic, Ferdinand Ngoh Ngoh granted him. The Senegalese-born was accompanied by CAF's Secretary General, Veron Mosengo-Omba and FECAFOOT's interim President, Seidou Mbombo Njoya.
Talking to the press after the audience, Augustin Senghor said the audience was more or less a working session as they evaluated what has been done and the little details left to polish up before the kick-off of the 24-nation tournament which will be in its 33rd edition in Cameroon.
"We want to salute the commitment of the Head of State, Paul Biya, to make the AFCON a memorable one. During our discussion with the Minister of State and on behalf of the President of CAF, we extended our congratulations to President Paul Biya," Mr Senghor said.
The audience held after the CAF officials visited some sites to host the next year's soccer competition notably Garoua, Yaounde and Douala and signed the Framework Agreement with the Cameroon government and the football federation. "We expressed our satisfaction given that after the Head of State's instructions, we noticed serious changes on the ground and activities have gone on at a satisfactory pace," the First Vice President of CAF noted.
The Friday's audience which turned out to be a working session, the CAF officials underlined, also served as an opportunity to state clearly where finishing touches have to be put to make the competition a total success. "We want to ensure that all should be set in a month so that the aspirations of Africa and the wish of the CAF President to make this AFCON in Cameroon, a country of football, the best image of African football to the rest of the world, are attained. An AFCON par excellence and one which will give a new impetus of the sport in the continent that Africa knows how to organise for and by itself a competition of this nature," Mr Senghor said.
Same category