Koung-Khi Division : CERAC Refurbishes School, Donates To Population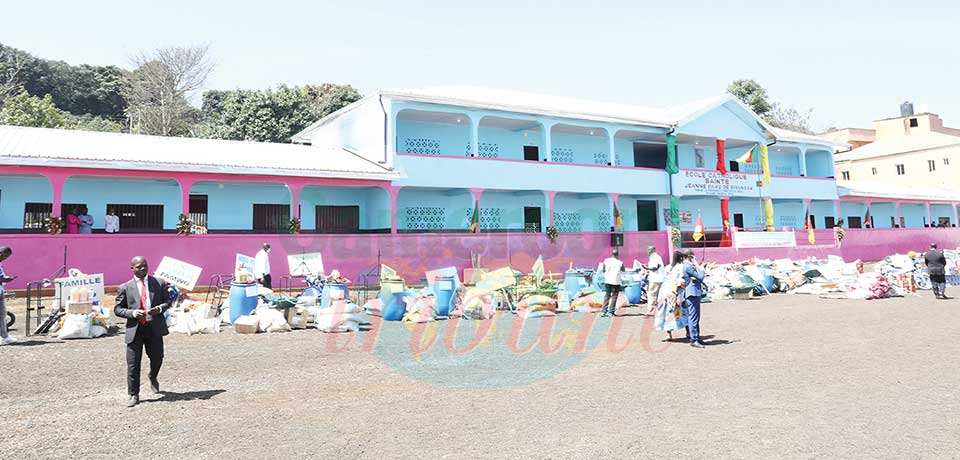 The personal representative of the First Lady, Celestine Ketcha Courtes, presided over a ceremony to hand over the school to the population on Friday, November 26, 2021.
Eager to bring help, relief and comfort to the needy, the First Lady, Founding President of the Circle of Friends of Cameroon (CERAC), Mrs Chantal Biya, who is also UNESCO's Goodwill Ambassador, led CERAC to rehabilitate and equip Saint Jeanne D'Arc Nursery and Primary School of Kouopleu, Bayangam. An official ceremony to hand over the structure and offer gifts to rural women and youths, and internally displaced persons from the North West and South West Regions, took place on Friday November, 26, 2021, in Koung-Khi Division of the West Region. The Personal Representative of the First Lady at the event was Celestine Ketcha Courtes, Minister of Housing and Urban Development, who is also Vice-President of the College of Advisers in CERAC. The event took place in the presence of administrative and local authorities of the West Region.
Mrs Ketcha Courtes said in 2008, UNESCO awarded Mrs Chantal Biya the title of Ambassador for Inclusive Education. The event at Bayangam, she said, was proof that the First Lady deserves the title. She used the festive occasion to urge the entire educational community and competent authorities to make good use of the jewel offered to them by CERAC and its Founding President. She also told the school community that it was good to say thank you to their benefactor, and to ask for more. However, Celestine Ketcha Courtes reminded them to keep in mind that they must first meet the challenge of earning the trust of the First Lady by keeping the school clean, maintaining other tools in good conditions as well as passing their examinations. The diverse gifts of agricultural tools to rural women, including an electrical generator, motor bikes/caskets for the youths, special equipment for physically challenged people and food items/cleaning material for the displaced persons, were also meant to help the population join in contributing to nation-building. The gifts, it was said, will help ease their work, increase productivity, income, and ultimately improve the living...
Same category