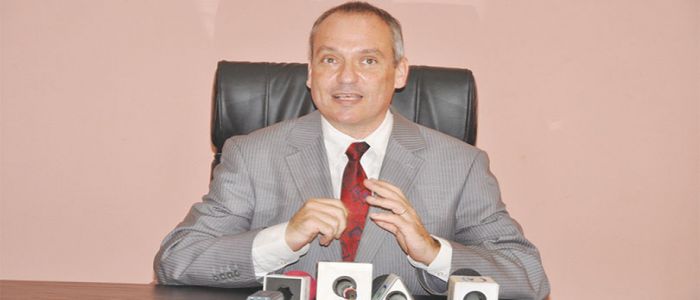 The country's Ambassador has promised more Israeli investment in Cameroon after meeting with Cameroonian business people in Douala on January 13, 2017.
The new Israeli Ambassador for Cameroon, Equatorial Guinea and Central Africa in Yaounde has underscored the importance of boosting commercial activities between Cameroon and Israel. Ambassador Ran Gidor, who was speaking to reporters at the end of a four-day visit to Douala, January 13, 2017, said encouraging more businesses and investments will go a long way to improve the economies of both countries.
In his keynote address, Ran Gidor said "I have come purposely to encourage more commercial activities between Israel and Cameroon. Of course, it is important for me as an Ambassador to sit back in Yaounde and talk to the government but it is no less important to make contacts with the people of the commercial centre of Cameroon, Douala. Our priority with Cameroon is in the area of Start-up, entrepreneurship and innovation.
We have had many meetings in a bid to cover all the sectors, public, private, artistic and financial sector which is just the beginning of a series of meetings short-lined to bring more Israeli people and investment to Cameroon, especially in Douala, which is the commercial centre of Central Africa; famous all over the world for the port and financial activities throughout the year."
Israel cooperates with Cameroon in defence and security, counter terrorism, agriculture, education, hi-tech, women's empowerment and many other different domains. Israel offers many opportunities for cooperation with Cameroonian journalists for training in Israel.
As concerns statistics on exchanges between the two countries, the Ambassador said there are no available statistics on trade: "Cameroonian ministries have different statistics and we have different statistics. Some areas of cooperation are sensitive like defence in which I cannot give you."
Same category