PM Yang Receives Nigerian Envoy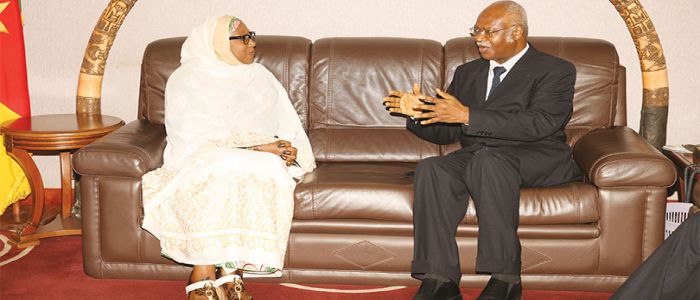 Nigeria solicits Cameroon's support in the position of chairperson of the Peace and Security Commission of the African Union.
The Prime Minister, Head of Government, Philemon Yang on January 18, 2017 received in audience a special envoy from the President of the Federal Republic of Nigeria, Muhammadu Buhari.
The envoy, Khadija Bukar Abba Ibrahim who is Nigeria's Minister of State for Foreign Affairs told the press that she was bearer of a special message of President Buhari to his Cameroonian counterpart, President Paul Biya. She said Nigeria wanted Cameroon to support its candidate for the position of the chairmanship of the Peace and Security Commission of the African Union. Nigeria's candidate to the position is Fatima Mohammed.
Information from the African Union states that the Peace and Security Council (PSC) is the standing organ of the AU for the prevention, management and resolution of conflicts. It is a key element of the African Peace and Security Architecture (APSA), which is the umbrella term for the main AU mechanisms for promoting peace, security and stability in Africa. It was established to be a collective security and 'early warning' arrangement with the ability to facilitate timely and efficient responses to conflict and crisis situations.
Same category